Timber Floor Installation By Perth's Most Skilled Professionals
All Our Installers Are Hand-Selected For Their Craftsmanship & Work Ethic
To create an outstanding floor you'll need a skilled professional that's passionate about their work.
Our team of world-class craftsmen take pride in creating timber flooring masterpieces whilst making the process as convenient and seamless as possible.
We're constantly refining everything we do to create seamless customer service
"All our installers are hand selected for their timber craftsmanship and sincere respect and gratitude for the customer. We only employ honest hard-working family men that will show the upmost respect for you and your home."
Mark Hutchison – Lifewood Founder
No Messy On Site Sanding and Polishing
All our floors come pre-finished and don't require any on-site sanding and polishing. No need to worry about getting dust all over your furniture and throughout your home.
No On-Site Aclimitisation
Every Lifewood floor board has been pre-aclimitised and won't need to sit on your property for weeks to adjust to local humidity levels.
You Don't Need to Move Out Of Your Home
Don't leave your beloved home when upgrading your floor. Lifewood installers can transform your home one room at a time with no inconvenience. 
We Can Lay 30+ sqm Per Day
Our team of craftsmen will lay up to 30 sqm a of flooring a day. We can even arrange to do this while you're at work or travelling.
We Clean Everything Up For You
No need to worry about a messy house, we guarantee to clean up all our mess and dispose of every piece of rubbish.
Walk On Your Floor The Same Day Of Installation
Being pre-finished, you can walk on your floor the same day of installation.
No Inconvenience 
Our installers will work to your schedule making the process as easy and convenient for you as possible.
We Take Pride in Our Work
All Lifewood installers are highly skilled craftsmen who consider their work a true art form.
Respectable Family Oriented People
Lifewood is a family oriented business based on family values. All our installers are respectable family men committed to their craft.
We also offer a range of optional upgrades we know you'll love. From removing furniture pre-installation to cleaning your house post installation, our upgrades offer real value.
TWO HOUR INTERIOR DESIGN CONSULTATION
FURNITURE MOVED IN AND OUT
SUPPLY AND INSTALLATION OF SKIRTING
SUPPLY AND INSTALLATION OF TEMPORARY FLOOR PROTECTION
Visit our showroom and walk on our exclusive hardwood collection
In just 20 minutes our consultants are able to understand the scope of your project, work with your design needs and walk you through all of our flooring options.
Bring your house plan and we will measure it on the spot and give you a formal quote with samples to take home.
To start your new build on the right foot, choose Lifewood to help you create the floor of your dreams and the rest will look after itself.
Download Our Price Guide And Discover The Price Of Your Floor - Fully Installed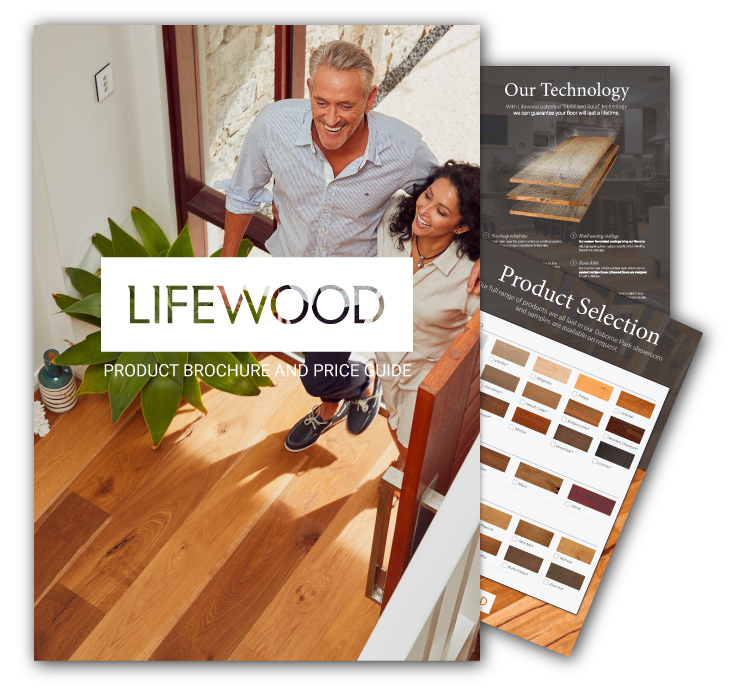 Download our price guide and discover the cost of your floor