Transform Your Home With Australian Hardwood Timber Flooring
100% Real Timber From Top To Bottom
The natural beauty of Australian hardwood, guaranteed to last a lifetime.
An Australian hardwood timber floor is the perfect canvas from which to design your home: Whilst it is beautiful in its own right, timber floors also hold a neutrality upon which you can create whatever look you desire for your home.
Spotted Gum – Australia's #1 Timber Floor
A flow of beautiful tones, from blond through to deep chocolate, highlights of greys and rich reds, with low lights of softest pink hues… it can be as bold or subtle as you wish for your home.
Blackbutt
A wonderful softly-toned canvas for all styles of home. It's light colour is perfect in contemporary homes, creating an impression of wide open space, but you'll find it so versatile you can picture it almost anywhere.
Marri
Predominately a light blond-coloured timber, Marri has distinctive black gum veins interwoven throughout the boards, and is a striking backdrop to the current industrial look, a rustic homely feel, or a simple contemporary home.
Features of Australian hardwood floor …
Hardness
Timber hardness is measured in a Janka rating, and each species of timber is given a rating. The higher the kN number, the greater the hardness.
Australian timber rating ranges between 8.5kN (Jarrah) and 12kN (Spotted Gum)
Specifications
Floorboard thickness      15mm
Floorboard width             130 – 180mm
Floorboard length            1820 – 2100mm
Stair nosing length           1800mm
Splay beading length       1800mm
Beautiful Staircase Creations
Thanks to our patented technology we've got your floor protected from all forms of spillage and moisture.
Each layer uses the same hardwood, creating superior stability and a higher resistance to termites.
Only the highest grade boards are selected for the top layer, creating colour consistency and a beautiful looking floor.
3. Patented hardwood core
Our unique engineering method helps to stabilise the board and reduces movement of the wood, which can result in cupping and shrinking.
No part of the timber log is wasted. No other timber is required to construct our floorboards.
Our custom formulated coatings bring our floors to life, highlighting their natural beauty and protecting them from damage.
Our boards have a thick surface layer which can be sanded multiple times. Lifewood floors are designed to last a lifetime.
We use very low emission glue that is safe in your home and guarantees the boards do not delaminate. There is also no need for coatings to be applied in your home.
Our patented core design prevents moisture getting into the board. We then coat the entire board in a moisture barrier for added protection.
Visit Our Showroom Today And Experience It For Yourself
18 Hector Street West Osborne Park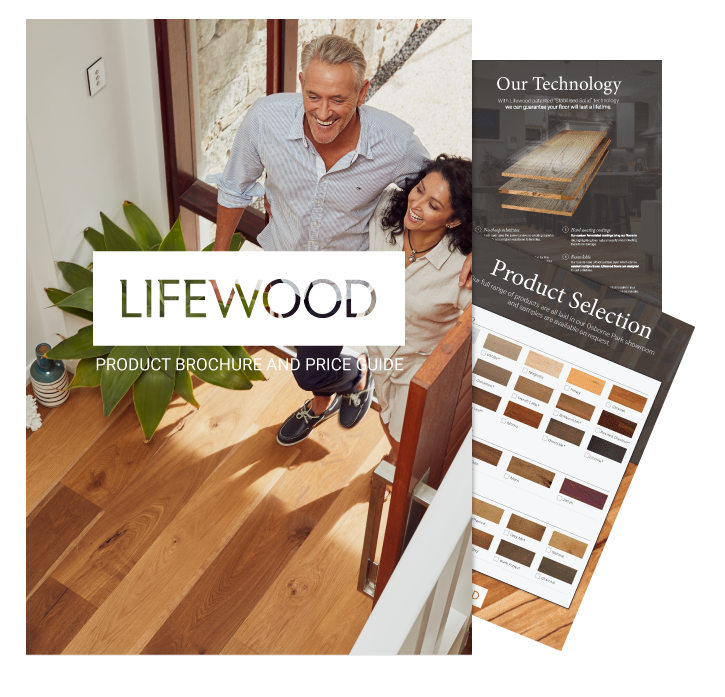 Find out the cost of your floor fully installed by downloading our 2019 retail price guide