FLOOR OF THE WEEK
Wideboard Marri Timber Flooring Home
Perth, Maylands
Take a walk through our clients beautiful home
Natural Feature Of Marri Timber Flooring In Your Home
Marri timber flooring is known for its high feature and is ideal for bringing the natural beauty of West Australian timber into your home.
Marri timber is grown in the South West regions of WA and is well known for it's high density of gum. These distinctive black veins and the natural colour variation of the timber are what our clients love about Marri timber flooring and the results, as you can see in the video, are amazing.
We recently completed our new home and could not be happier with our stunning new Lifewood Marri floors. The floors add a beautiful, natural glow to our coastal themed home and I admire them everyday.
Our timber stairs have an impeccable finish that catches everyone's eye as they enter the house with a 'wow'. I often refer to the floors as adding art to our home with the stunning grain and cohesive variations.
The order and installation process was seamless and the staff professional and friendly. Overall, it was one of the best decisions we made to have Lifewood Marri floors. Thank you to the team.
Job and Installation Information
Type of Job:
Supply and installation of our premium Marri timber flooring to both upper and lower areas of Perth home.
Product: Marri timber 180mm wide pre-finished Stabilised Solid flooring
Coating: Satin finish with 7-layered polyurethane UV protective coating
Areas Covered:
Ground floor: Study, passage, walk in linen closet
2 steps in the passage way with Marri nosing and waterfall finish on side of steps
Upper floor: Landing and sitting area
6 solid 70mm stair treads for bottom section of staircase
9 steps between walls with waterfall front
2 x 1 metre landings with waterfall front
Installation time: 8 days
See Previous Floors of the Week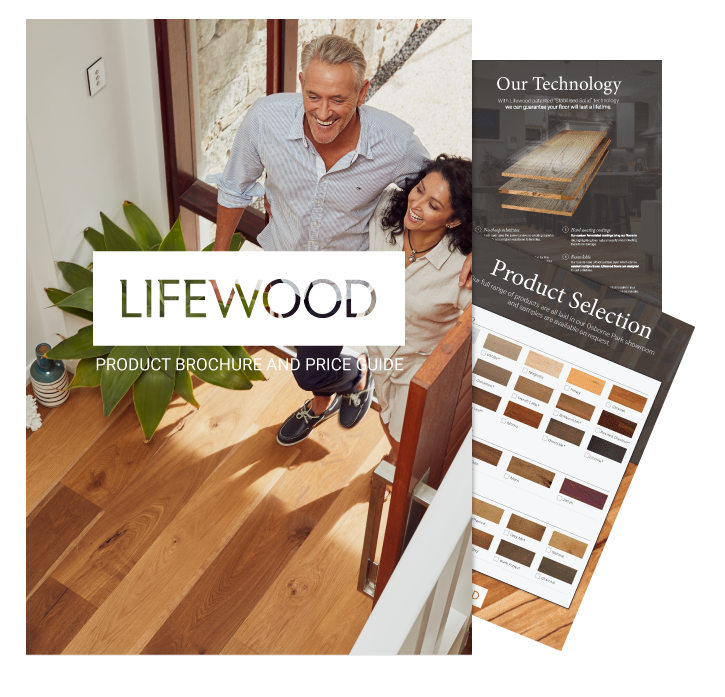 Download Our Price Guide
Discover the price of your floor fully installed and learn more about our extensive range of timber flooring.