FLOOR OF THE WEEK
Blackbutt Timber Flooring
Maylands Perth
Take a walk through our clients beautiful home
The Customer's Experience
"Every morning we stand at the top of the stairs and go "wow"!  This floor is awesome, and so different to the old white tiles.  Brings a new warmth and up-market feel to the whole house.
The job of lifting the old tiles was messy – and I'm glad I took advice and moved everything out and covered everything in the open area upstairs, including curtains.  The job was successfully completed while we were away in the UK.
We were reassured by our neighbours and a full set of photographs from Lifewood that the job had been completed to very high specification.
Wish we had done it years ago. Cheers"
Job and Installation Information
Type of Job: Supply and installation of our premium Eastern State Blackbutt to Perth home renovation. The whole installation was completed while our client was travelling in the UK with her family.
Product: Blackbutt 130mm wide pre-finished Stabilised Solid flooring
Coating: Semi-gloss finish with 7-layered polyurethane UV protective coating
Areas Covered:
Ground floor: Entry, Living, Dining, Kitchenn, Pantry.
Staircase to first floor up to step 17
Split level : Activity, Passage between rooms, WIL and Study.
Extras: Include tiles removal, acoustic matting, supply and installation with rubbish clean up
Installation time: 7 days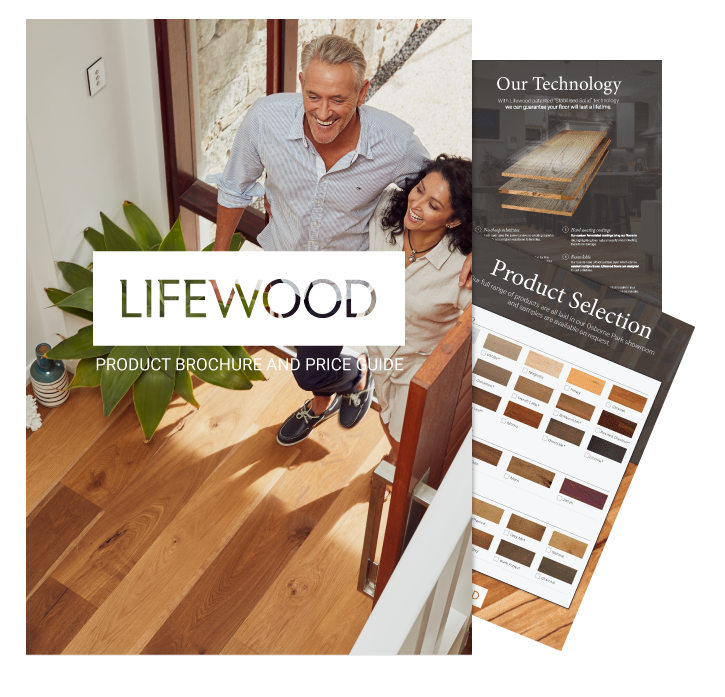 Download Our Price Guide
Discover the price of your floor fully installed and learn more about our extensive range of timber flooring.