Timber Flooring Frequently Asked Questions
"We want to empower you to make an informed decision so you can choose a company that aligns with your values, and a floor that best suits your home and your lifestyle."
– Mark Hutchison
What is a pre-finished wooden floorboard?
A pre-finished timber floor is when the floor board has already been sanded, sealed and is ready to be laid. This is very advantageous for getting new floors laid quickly without having to coat inside your home.
Pre-finished floor installations can be done in just days and walked on instantly.
What does cupping mean with timber floor?
Cupping is a serious structural defect which can occur in all wooden and bamboo floors which is caused by excess moisture content or in the case of compressed bamboo it manifests as a result of the release of stored compression energy in the board.  This is an industry wide problem and may be solved by sanding and polishing the surface of the boards after which the problem may not re-occur.
All Lifewood floors manufactured with Stabilised Solid cross engineered technology which eliminates this problem and we back it up with a lifetime warranty.
This is an example of a cupping floor.
What is engineered timber flooring?
Engineered timber floor is when a floorboard is manufactured in 3 layers to make it more stable and less susceptible to damage. The top layer is typically made from solid hardwood timber, and the sub-layers are typically made from inferior wood such as plywood.
Lifewood floors are made from solid timber throughout the whole board (all 3 layers) and completely sealed to avoid any form of moisture damage.
What is a cross laminated timber floorboard?
A cross laminated floorboard is a manufacturing method where the grain direction of the centre lamination is at right angles to the grain direction of the top and bottom lamination. It is used to strengthen the boards resistance to cupping and movement by reinforcing the centre lamination and opposing the natural forces that cause timber and bamboo products to move under stress or environmental changes.
How long until I can walk on my new floorboards after installation?
If you are getting a pre-finished timber floor you will be able to walk on your floor immediately after the installation is complete.
If you are installing raw timber flooring, you will need to leave the house while the floor is being polished and the curing process is taking place. This can take up to 5 days.
Why you shouldn't get a timber floor?
A timber floor is designed to age gracefully and for people that admire the imperfection of authentic timber. If you want an indestructible floor, or a floor that can take excessive water, don't get a natural timber floor.
Timber is a natural product and is susceptible to heavy or industrial traffic which can cause the floor to age prematurely. It is also susceptible to excessive moisture or constant water spills such as commercial kitchens or wet mopping of floors.
What are the advantages of a direct stick floor?
Direct stick is a method of installation where the floor boards are glued directly to the sub floor using timber floor adhesives.
The advantages of this way of installation are that you can sand and polish the floor more times giving your floor a much longer lifetime, plus it eliminates hollow echo from under the boards.
How can I touch up a timber floor?
Scratches and dents can be easily repaired with coloured pens and waxes can be used to fill in dents.
If you wanted to refresh your floor you can traditionally apply single coat of polyurethane.
In the event that floor is heavily worn, you have the option of sanding and polishing the board and bringing the floor back to new.
If it's a pre-finished floor you can actually cut and replace individual planks that are severely damaged.
What are the advantages and disadvantages of a timber floor?
Timber flooring has a large amount of advantages which we believe greatly outweigh the disadvantages.
Advantages:
A timber floor looks amazing and creates a natural warm elegant environment.
Timber flooring is a more ecological option as long as the logs are sources ethically.
Very low maintenance and easy to clean
Doesn't have fibres or grout which can hold and trap bacteria, dust, pollen, and other allergens which could harm your family
Great acoustics
Can you use timber floor in the bathroom?
Timber flooring in the bathroom does look fantastic but it does come with some challenges.
Excessive moisture can cause the timber to move or darken so it's important that if you have timber flooring in the bathroom it's kept dry.
Timber floorboards won't contour which means that if a flooding occurs it won't direct water to a drain location.
Can you paint timber floor?
Yes, timber floor is commonly painted stained and coated with polyurethane. It's important to check the compatibility of the timber with the paint of coating, some timbers naturally have high oil content that can affect its ability to be coated. In other cases a timber surface may be contaminated with other household products like silicon or cooking oils which can also cause reactions with paints and coatings.
Can you patch timber floor?
Patching of a timber floor is much easier when the floorboard is pre-finished as individual boards can be cut and replaced with little disruption to the home.
If the floor has been sanded and coated in the home, this task becomes a bit more problematic as the colour of the floor and the coating will no longer match the original installation and therefore to achieve an optimum look the entire floor is re-sanded after the repair work is complete.
How to polish timber floor?
This is a process that can be done as a DIY by hiring sanding equipment from Bunnings and applying polyurethanes with a roller and brush. This is not an easy task to undertake and it takes many years of experience to refine this craft, so we always advise for this task to be done by professional sand and polish contractors.
Feel free to contact us for recommendations.
How to insulate timber floor?
Installing timber floor in apartments requires them to be insulated for sound. This is typically achieved by laying the floorboards on and acoustic underlay which inhibits the noise of walking from your neighbours below.
See more about our acoustic underlay here.
How to replace timber floor?
If the floorboard has not been glued down (floating floor) the boards can be individually removed from the room. This process can be sped up by cutting the floor into one meter wide strips and removing by hand.
In the event that the floorboards are glued down, this will require a more challenging removal which typically involves the floor being cut into short 30cm wide sections using a circular saw and jackhammers being used to chisel floorboard sections of the sub-floor.
This process can be quite loud and dusty.
How to sand timber floor?
Sanding a timber floor is a bit of an art form and we always recommend getting a professional if possible.
You will need to get the following types of sanders:
Standing drum sander
Edging sander
Detail sander
This first step is to prep the floor for sanding. Knock out any nails which may be sticking our from the top of the board. This will prevent the sandpaper from tearing while you're sanding.
The next step is start sanding down the surface layer of your floor with a drum sander. This equipment can be hired at your local hardware or DIY store. Always try to sand with the grain of your floorboards.
Next, to get closer to the edges of the floor, use an edging sander with a slightly finer grit level. Following this you will want to grab a detail sander so you can get right up against the corners and skirtings.
For equipment hire take a look at your local Bunnings.
How to varnish timber floor?
Before starting it's critical that you have thoroughly vacuumed and dusted your entire floor.
Once you have ensured the floor is clean, simply roll the the polyurethane varnish over the floor area equally. Give roughly 4 to 6 hours for the first coat to dry, then repeat.
You can give the surface a very light sand between coats to help the varnish to adhere well.
Which timber floor is the best?
Choosing which timber floor, or bamboo for that matter, is a very personal choice and the best one is subjective to your situation.
As you want a floor that will not only look good but also last a long time, the best option is a hardwood. The best hardwoods for floorboard are – Jarrah, Blackbutt, Spotted Gum, Marri, French Oak.
Surprisingly, Bamboo is also a great option and if manufactured correctly is even harder and more durable than most of the hardwoods on the market.
The subjective side of choosing which timber depends on colour, tone, and how much texture you want in your floor.
To get a better understanding of these stylistic aspects of the timbers, see our product gallery to see some of our previous work.
What are good timber floor finishes?
The most commonly used finish for timber flooring is polyurethane, which comes in a water-based, oil-based, or solvent-based varnish.
Oil-based finishes are know to really change the colour of the wood, are a little more delicate to apply, and take much longer to dry. For these reasons, this is not a common option.
Solvent based finished are quick drying but tend to leave a stronger smell.
We would recommend using water-based finish as it's quick to dry, doesn't leave a strong smell, and more importantly it's much easier to apply.
What colour is timber floor?
The colour of timber floor will depend on the species of wood you use.
Here at Lifewood we have the following types of floorboard and colours:
Jarrah – Warm rich red
Blackbutt – A lighter honey/caramel
Spotted Gum – Blonde through to dark chocolate with highlights of grey and rich red
Marri – Light-blonde with dark veins
French Oak – Lime Wash, Natural, Double Smoked, Golden Rum, Cognac, Heritage, Burnt Driftwood, Charcoal
Bamboo – Honey, Caramel, Mocha, Magnolia, Rustic, Burnt Caramel, Roasted Chestnut, Ebony
What is suspended timber floor?
A suspended timber floor is when a floor is installed on a raised level of joists instead of a solid slab of concrete.
What is floating timber floor?
A floating floor is referring to a type of timber floorboard which doesn't need to be nailed or glued down to the surface layer.
Floating floors typically have a tongue and groove which click into one another, making the installation process quick and easy.
The problem is a floating floor is seen as more of a temporary solution as you can't sand and polish the surface layer.
What timber floor should I use for a shed?
As a shed floor is bound to see lots of wear and tear, we would suggest that you don't opt for a premium grade timber and look for a cheaper option.
At your local hardware or timber store you will find exterior grade plywood, which is hard wearing but also very cost effective.
How to install timber flooring?
Premium grade timber flooring can be installed by various methods depending on site conditions and the timber floor you choose.
The boards can be glued directly onto concrete, fixed direct to batons or ply, and we have even floated numerous floors. We need to consider the different properties of the grain styles and the site conditions to choose the most appropriate method.
What's the best finish for timber floor?
We finish the boards with 9 coats of German polyurethane. Unlike on-site sand and polish, our 9 layer coating is applied to all 6 sides of every board with the highest scratch resistant protection. We choose to use this finish because it is proven to have the lowest emissions.
Do timber floors change colour over time?
Yes, all timber and bamboo floors can change colour over time. The lighter colour timber floors will become subtly lighter while the natural tones blonde can become a darker golden colour. This natural process is caused from continued exposure to natural light. The stronger the light source, the more rapid the colour change.
What's the best way to take care of your timber floor?
Caring for your Bamboo and Timber Floor is very easy and we provide all customers with a floor care kit, including instructions.
Install protector felt on furniture
Use area rugs on high traffic pathways
Place mats at exterior doors to trap sand and grit from incoming traffic
Remove spills promptly
Vacuum or sweep floor regularly with a soft broom to remove sand and grit
We recommend using the Enjo Mop
Does timber flooring scratch easily?
Yes, timber floor does scratch, but the most important thing to consider to avoid scratching is the finish.
All our floors have a 7 layered polyurethane finish making it one of the toughest and most durable floors available. However, it is fair to say that the floor can still get scratched but the finishes we use ensures minimal scratching.
We also supply you with a special care kit to help minimize the appearance of any scratches.
Should I install my timber floor on plywood?
Traditionally, the best method of installing a timber floor is to use plywood.
There are three reasons for this:
Firstly, it helps protect the timber from moisture in the concrete, Secondly, it helps hold down the thinner floor-boards and thirdly it helps minimize the affect of undulations in the concrete floor. However, Lifewood Stabalised Solid floor boards are better suited for direct stick installations because they are 15mm thick, resistant to moisture and movement, and the glueing techniques we use take out undulations in the concrete.
Therefore there is little benefit in using ply.
How hard wearing is polyurethane?
Traditionally metal oxide is only applied to the last two layers of bamboo and timber floorboards.
However, our boards have metal oxide incorporated into all 7 layers of polyurethane. This gives the boards a hardness and scratch resistance normally only seen in commercial grade finishes. This has two very important benefits; the surface is much more scratch resistant and the tougher coating makes the product more dent resistant. This gives your floor a longer life.
How long will my timber floor last?
With the correct care and maintenance you can expect a timber floor to last over a decade. We expect that most people will either re-sand or re-coat their Timber floor on average every 10-15 years to keep them looking like new. Our bamboo and timber floor coverings are all 15mm thick and therefore can be expected to outlast many of the timber floors being installed today.
How many times can a timber floor be sanded back?
Bamboo and timber floors can be sanded back and recoated numerous times, depending on how they are manufactured.
The denser the floor the more sanding you will be able to get out of them. Our experience indicates that you should expect to get a minimum of 2 – 3 sanding out of a well manufactured floorboard.
Where does the product come from?
Our product is manufactured to specific design requirements in Indonesia and Vietnam.
The product goes through multiple quality control points and in addition all the machinery, polyurethane and glues are imported from Germany.
German flooring companies originally pioneered bamboo flooring.
Why don't all the boards cost the same?
All our floorboards are manufactured to the same high quality standard.
Each style varies in the time it takes to manufacture and our bamboo for example, requires twice as much raw material to make than the Vertical or Horizontal Grain styles. You can feel this in the weight of the Lifewood range of bamboo flooring.
Can I install the floor myself?
Yes, if you are a handyman. We also have qualified installers available to support you with any problems you may incur. We are more than happy for you to visit one of our installation work sites to see how the floor is installed and ask our installers any questions you may have.
How to clean timber floor?
You can use many different cleaning products on Bamboo, French Oak and Timber flooring.
After years of practice we now recommend the Enjo broom as one of the best products for keeping timber floors looking great. They are a great investment if you want to save time and you do not have to use any chemicals. They also don't leave any streak marks on the floor.
Does timber flooring require lots of maintenance?
No special maintenance is required for Bamboo, French Oak or Timber floor. A number of people choose to re-coat their floor with polyurethane every 5-7 years and on average you would expect to re-sand your floor every 10-15 years.
How to fix a damaged timber floor
One of the great advantages of a pre-finished Bamboo or Timber floor is that damaged boards can be easily rectified.
In most cases a great result is achieved by simply cutting out and replacing the damaged boards returning your floor to it's original condition. The process is similar for sanded and polished floors but may require an additional coat of polish over the entire floor.
We provide a free care kit with every floor that has a number of products that you can use to fix minor damage yourself, for example scratches and dents.
How long does it take to install a timber floor?
When using pre-finished floorboards, installation is quick, clean and easy. The time it takes is obviously dependant on the size of floor area. Some homes can be done in a day, others can take up to one week. (Note: our installation teams averages around 30m2 /day)
If you're not using a pre-finished board it will be a much more timely process. For an onsite sand and polish you will need to allow an additional week to coat the floor, and it's often advisable to let the floor acclimatise in the house for up to a week.
The amount of acclimatisation will depend on the time of the year as hotter conditions create more stress on the timber and cooler condition require more time for drying.
Here at Lifewood our full range of Bamboo, French Oak and Timber flooring is all pre-finished and can be installed in days.
Do I have to leave my house when installing timber floorboards
Pre-finished timber floorboards:
No. All the boards are pre-finished which means there is no sanding and polishing in the home. The glue we use can give off a faint smell on the first day as it is drying. Once dry there is no release of smell or gases, in fact the manufacturers tell us that the glue could be classed as food grade. There is no need for you to move out which is a huge advantage for busy families.
Sanded and polished floorboards in the home: The laying of the boards is quick and clean. The glue we use can give off a faint smell on the first day as it is drying. Once dry there is no release of smell or gases, in fact the manufacturers tell us that the glue could be classed as food grade. The sanding and polishing process will be a little dusty. We only use state-of-the-art equipment to ensure the process is as quick and clean as possible.
Will red wine stain timber floorboards?
Good question. If a floor is not finished and sealed correctly some timber floors are more susceptible to moisture stains.
All Lifewood timber floors are sealed on all sides with polyurethane to protect them. In addition to this the floor is clamped up tight when laid. Any spills will actually form a puddle rather than seep into the floor, however spills should be cleaned up as soon as possible. Inferior bamboo and timber flooring cannot guarantee against stains as the boards are poorly machined and cannot be clamped up tightly. As with any timber floor it is a good practice to clean up spills soon after they occur to avoid any potential damage.
Can termites eat a timber floor?
Termites can eat through concrete to get to a timber they want, our experience has shown us that termites can eat bamboo flooring. For this reason, we impregnate the raw material with the mineral boron which has the effect of improving the floors already natural resistance. It is important to note that the floor is not termite proof, so prevention is better than cure.
How do we know you are going to be in business long term to warrant any problems we may have with our floor?
This is an important question. Research from overseas has shown that many flooring companies that were importing cheap bamboo flooring have gone out of business as a result of poor quality and customer dissatisfaction.
In the last few years there have also been a number of local cases of this. As with other products you get what you pay for. That is why we only invest in the highest quality materials and installers.
If you have any doubt about our customer satisfaction, feel free to read some of our many customer testimonials.
Do timber floorboards give off any chemicals?
All of our  floorboards are pre-finished which means there is no sanding and polishing in the home. The glue we use can give off a faint smell on the first day as it is drying. Once dry there is no release of smell or gases, in fact the manufacturers tell us that the glue could be classed as food grade.
There is no need for you to move out which is a huge advantage for many families. As with other timber floors, when we sand and polish in the home, there will be some smell and fumes released for several days after polishing. However, once dry there are no fumes emitted and the floor becomes very safe.
In the last few years there have also been a number of local cases of this. As with other products you get what you pay for. That is why we only invest in the highest quality materials and installers.
If you have any doubt about our customer satisfaction, feel free to read some of our many customer testimonials.
Can you install timber flooring over underfloor heating?
That's a good question. We have done this in a number of installations. However, there are a number of things that need to be considered. Our experience with underfloor heating is that the installer of the heating needs to pay attention to the level of the finished floor. On a number of jobs we have found that the sceed that they put on the underfloor heating is very uneven making it very difficult to install over.
Can I lay timber floor over tiles?
Yes, it is not uncommon to install timber floors over tiles. although there are a few potential negatives that you need to be aware of:
1. If the tiles come loose from the sub floor it could potentially cause damage down the track as you can't guarantee how well it's sealed from moisture.
2. Tile floors are rarely perfectly flat so when your timber floor is installed it will have some hollow sounding areas.
3. The other thing we must check is that the glue used bonds well to the surface of the tile.
In most cases we recommend that the floor be wiped over with methylated spirits and given a light sanding to ensure the glue bonds sufficiently.
What happens if my wooden floorboards gets flooded?
It really depends on the severity of the flooding, this is a factor of the volume of water spilt on the floor and how long it remained on the floor before it dried or leached away.
In minor flooding scenarios often there is no change to the floors appearance, however instances of major flooding can result in the floor having to be repaired by replacing boards in the damaged area or by sanding and polishing.
Long periods of excess water tends to damage the polish on the surface of the boards.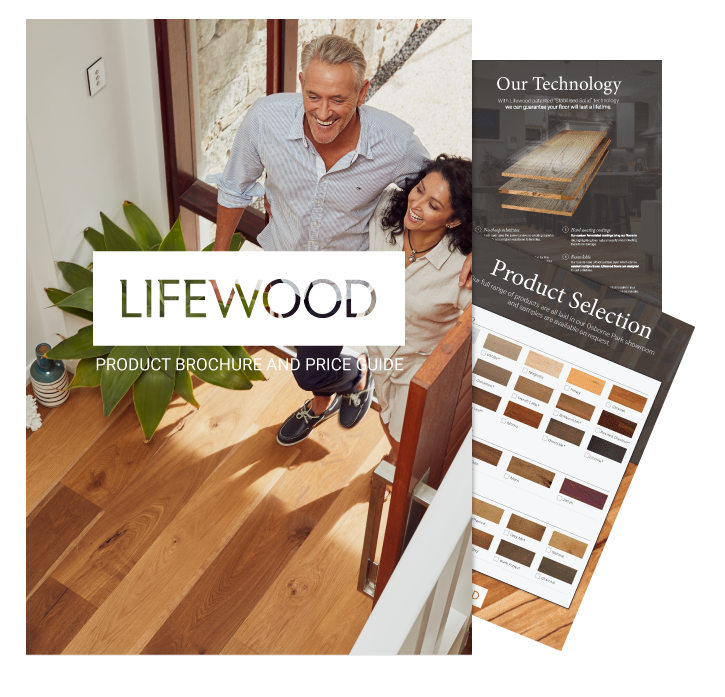 Discover the cost of your floor – fully installed
We supply across Australia