DIY Timber Flooring with Herringbone French Oak
Carine, Perth
"When we found Lifewood and their Limed Wash Oak it really solidified our ideas and the feel that we wanted for our home"
Take a walk through our client's beautiful oak flooring a hear about their experience installing Lifewood flooring.
What the client had to say
We knew that we were looking for a bit of a Hamptons coastal feel.
Originally, we weren't sure if we wanted to go for a dark oak or a light, but then when we found Lifewood and their Limed Wash Oak at the showroom it really solidified our ideas and the feel that we wanted for our house.
So, we're pretty happy and it was a pretty easy decision in the end actually which was good. My partner Samuel is a chippy so he kind of has the skills, but he's never laid flooring before. So, the first few boards were a bit tentative, but the straight boards were really easy, and it all went together really nicely once he kind of got the flow which was really good.
The Herringbone however did take a little longer, a little bit more technique to it. He would cut and lay it first and then put down the glue and re-lay it just to make sure it was perfect because it was a little bit more time consuming.
If you have the skills, you can do it… but if I didn't have Samuel I wouldn't do it myself.
So, we started a little Instagram page called "2 Sams build" for the house. I'm originally from New South Wales so it started off as a bit of a page I could share with my friends and family at home. I didn't want to send photos to everybody all the time.
It's kind of just grown a little bit from there and have a bit of a following now which is super fun.
Visit 2 Sams Build Instagram Page
It's lovely to just share our photos of our home and there's quite a good community of positive support and info out there.
All Lifewood floors are available as DIY flooring packages 
Our installation packages come with everything you need for the perfect finish. Moisture barrier, glue, beading and our own installation guide created with the help of our master craftsmen installers.
Visit our showroom to chat to one of our friendly consultants and download our installation guide.
Job and Installation Information
Type of Job:
Supply for DIY flooring, Lifewood's premium French Oak flooring.
Product:
Coating:
Matte finish with 9-layered polyurethane UV protective coating.
Total flooring supplied: 153 Sqm
30 sqm herringbone
123 sqm regular 220 wide boards
15 sqm for staircase
10 lengths of nosing for stair finish
Lifewood's French Oak Limed Wash
All our floors are engineered using our patented Stabilised Solid® design. This design uniquely combines the look and feel of solid timber flooring with an advanced engineered structure. Only available at Lifewood.
Visit us at our award-winning Osborne Park showroom
In just 20 minutes our consultants are able to understand the scope of your project, work with your design needs and walk you through all of our flooring options. Bring your house plan and we will measure it on the spot and give you a formal quote with samples to take home. To start your new build on the right foot, choose Lifewood to help you create the floor of your dreams and the rest will look after itself.
– Get Directions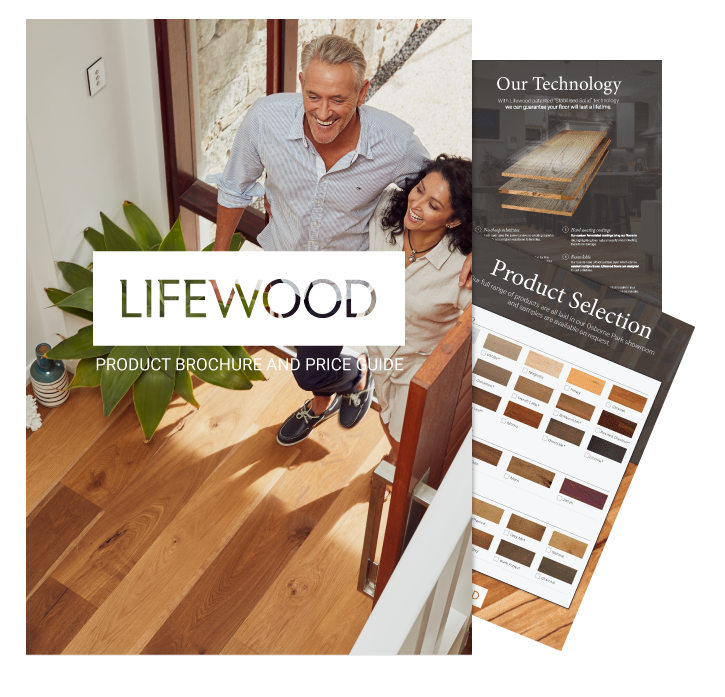 Download Our Price Guide
Discover the price of your floor fully installed and learn more about our extensive range of timber flooring.