Invest in a Lifetime of Beauty with Spotted Gum Timber Flooring
Perth, Booragoon
"We love how there is a lot of variation in the colour of the Spotted Gum. It gives us so much scope to bring in other timber furnishings and fixtures."
Take a walk through our client's beautiful Spotted Gum flooring creation
The Client's Journey With Lifewood
"We were drawn to Lifewood because their product seemed to be superior to other engineered boards that we had been looking at.
We then visited the showroom, the staff were very friendly and seeing all the boards laid helped us to decide that the Spotted Gum boards were the flooring for us. The boards have now been laid in our new house and we are thrilled with how the floor looks and feels under foot.
The installer, Jonny, was a perfectionist.
We love how there is a lot of variation in the colour of the Spotted Gum. It gives us so much scope to bring in other timber furnishings and fixtures."
See the full gallery of another beautiful Spotted Gum flooring creation by Lifewood
Job and Installation Information
Type of Job:
Supply and installation of Lifewood's premium Spotted Gum flooring.
Product:
Coating:
Semi-gloss finish with 9-layered polyurethane UV protective coating.
Areas Covered:
Ground Floor
Entry
Drop zone
Passage
Linen cupboard
Kitchen
Living room
Scullery
Dining room
13 x 1 return stairs
1m square landing on top step
Upper Floor
Installer
Installation time:
Pre-finished Solid Spotted Gum Timber Flooring
Visit us at our award-winning Osborne Park showroom and take the Lifewood 20-minute tour.
In just 20 minutes our consultants are able to understand the scope of your project, work with your design needs and walk you through all of our flooring options. Bring your house plan and we will measure it on the spot and give you a formal quote with samples to take home. To start your new build on the right foot, choose Lifewood to help you create the floor of your dreams and the rest will look after itself.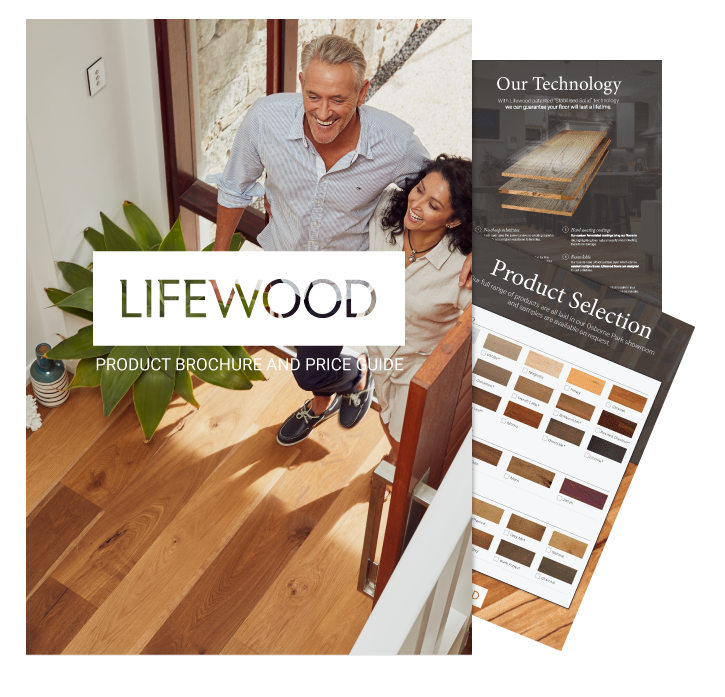 Download Our Price Guide
Discover the price of your floor fully installed and learn more about our extensive range of timber flooring.