Marri Timber Flooring Breathes Life Into This Perth Home
Perth, Como
"The finish on the stairs is my favourite… absolute favourite!"
Take a walk through our client's beautiful Marri timber flooring creation
What the client had to say
So the Marri was your husband's preference?
"My husband was in love with the Marri, he's always been in love with it and has secretly wanted it forever. And, I couldn't have hoped for anything more, It's just beautiful."
You've put some beautiful colours and tones with it…
"Yes, I thought it would be difficult, but it was actually quite easy to keep paired back and restrained and I picked some nice neutral colours to go with it. We're really happy with the result and the finish on the stairs is my favourite.
Absolute favourite!"
Let the natural beauty of Marri flow through your home
Marri timber is the perfect flooring option to bring warmth, comfort and flow into your home.
Showcased beautifully in this week's featured floor of the week, the distinct gum veins found in Marri timber connect the whole home with its beautiful tones and natural variation.
Even with its strong characteristics, Marri can be the perfect canvas for blending contrasting colours and creating unique and personalised interior design.
See the full gallery of another beautiful Marri timber floor by Lifewood
Job and Installation Information
Type of Job:
Supply and installation of Lifewood's premium Marri timber flooring.
Product:
Coating:
Satin finish with 9-layered polyurethane UV protective coating.
Areas Covered:
Ground Floor
Entry
Passage
Home theater
Living
Kitchen
Walk in pantry
Staircase
Second Floor
Landing
Passage
Activity room
Walk in linen
Retreat
Master bedroom with walk in robe
Installer
Installation time:
Pre-finished Solid Marri Timber Flooring
Visit us at our award-winning Osborne Park showroom and take the Lifewood 20-minute tour.
In just 20 minutes our consultants are able to understand the scope of your project, work with your design needs and walk you through all of our flooring options.
Bring your house plan and we will measure it on the spot and give you a formal quote with samples to take home.
To start your new build on the right foot, choose Lifewood to help you create the floor of your dreams and the rest will look after itself.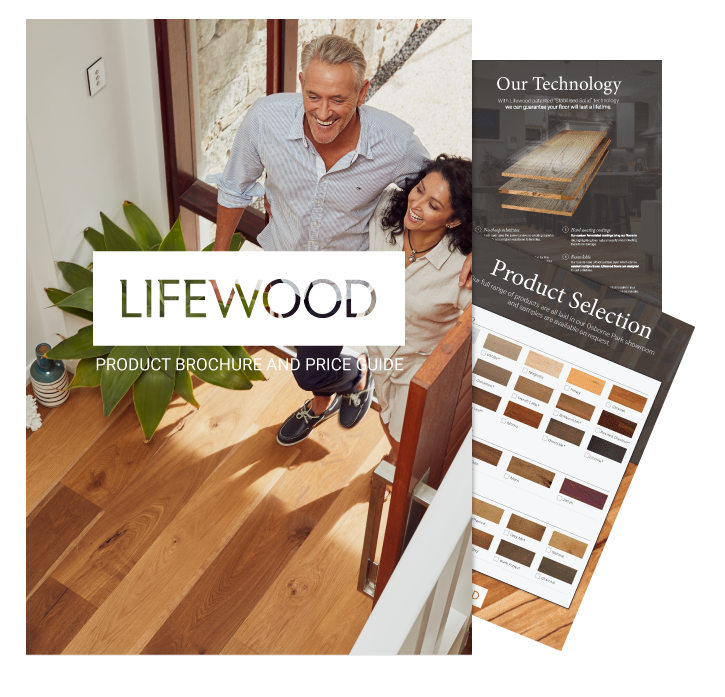 Download Our Price Guide
Discover the price of your floor fully installed and learn more about our extensive range of timber flooring.