Revitalise Your Home For Spring with Blackbutt Timber Flooring.
Perth, Shelly
"Love the feel of it on my bare feet."
Take a walk through our client's beautiful Blackbutt timber flooring creation
Revitalise You Home For Spring Without Moving Out
Our clients had been living in on tiles for the past 20 years before recently deciding that they'd had enough of their cold, dated tiles and replace them with warn, natural timber.
Their big concerns were matching the floor with their current interior design, and how much extra work would be required to beautifully integrate the timber with their existing layout and staircase.
Our team of flooring consultants have years of experience in helping clients find the perfect timber floor to suite their home, lifestyle and offer professional advice when it comes to colour blending and creating beautiful design combinations.
Our team of installers are all highly regarded artisans in their trade and professionals at integrating timber flooring into all surrounding areas.
See some of their beautiful work in the gallery below.
See the full gallery of another Blackbutt flooring creation by Lifewood
Job and Installation Information
Type of Job: Supply and installation of Lifewood's premium Blackbutt timber flooring.
Product: NSW Blackbutt timber flooring, 180mm pre-finished Stabilised Solid.
Coating: Satin finish with 9-layered polyurethane UV protective coating.
Areas Covered: 94 Sqm
Entry
Passage
Family room
Kitchen
Walk in pantry
Meals area
Staircase
Installer
Installation time: 5 days
Lifewood Stabilised Solid Blackbutt Timber Flooring
Visit us at our award-winning Osborne Park showroom and take the Lifewood 20-minute tour.
In just 20 minutes our consultants are able to understand the scope of your project, work with your design needs and walk you through all of our flooring options.
Bring your house plan and we will measure it on the spot and give you a formal quote with samples to take home.
To start your new build on the right foot, choose Lifewood to help you create the floor of your dreams and the rest will look after itself.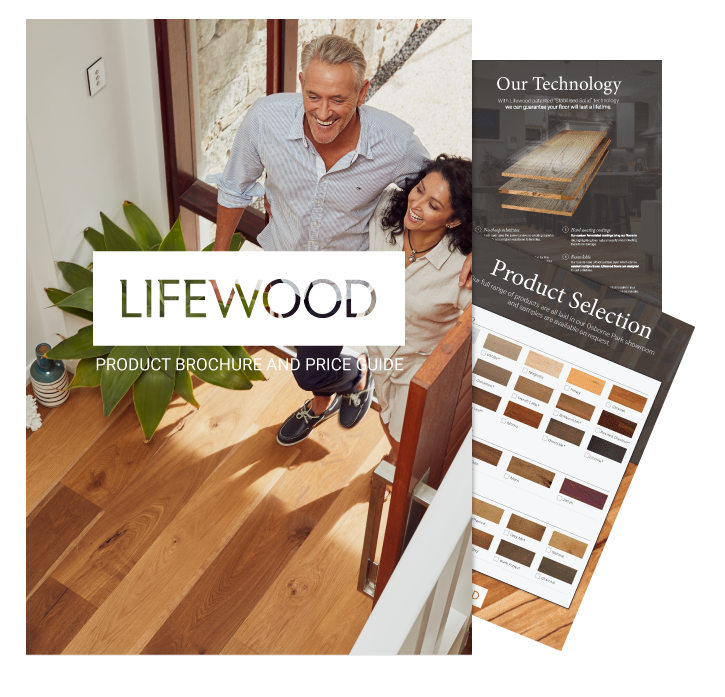 Download Our Price Guide
Discover the price of your floor fully installed and learn more about our extensive range of timber flooring.