LIFEWOOD FLOOR OF THE WEEK
Smoked French Oak Flooring Transformation
Perth, Sorrento
"The width of the board was so important…"
Take a walk through our client's beautiful Smoked French Oak flooring creation
What the client had to say
"The width of the floorboard for us was so important given the large spaces. I needed something which didn't look too busy and added to the feel of open and warm spaces."
The Client's Journey Choosing Lifewood
We first met with the clients when they walked into our showroom in September 2019, looking for an elegant timber floor for his upcoming new build.
The biggest factor was finding a floor which wasn't too busy and blends in well with large, open plan architecture.
We were able to quickly help the clients round down their options to a few variations of French Oak, which they then went on to choose the Smoked finish.
See the full Smoked French Oak Flooring Gallery
Job and Installation Information
Type of Job:
Supply and installation of Lifewood's premium Smoked French Oak timber flooring.
Product: Smoked French Oak timber flooring, 220mm wideboard pre-finished Stabilised Solid.
Coating: Matte finish with 7-layered polyurethane UV protective coating
Areas Covered:
Ground floor entry
Living room
Dining area
Kitchen
Passage
Study
Staircase with void nosing
Upper floor sitting and linen
Upper floor connecting passage
Installation time: 6 days
Smoked French Oak Flooring
Come visit us at our award-winning Osborne Park showroom and take the Lifewood 20-minute tour.
In just 20 minutes our consultants are able to understand the scope of your project, work with your design needs and walk you through all of our flooring options.
Bring your house plan and we will measure it on the spot and give you a formal quote with samples to take home.
To start your new build on the right foot, choose Lifewood to help you create the floor of your dreams and the rest will look after itself.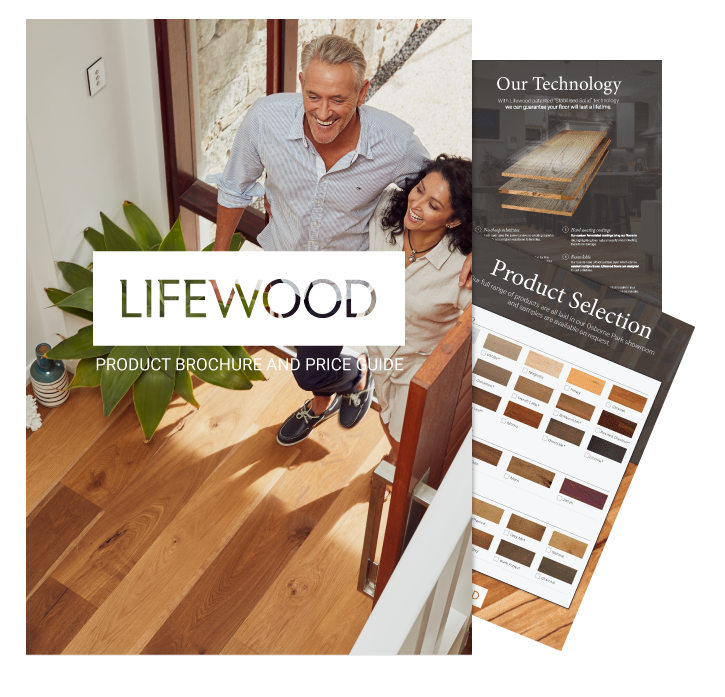 Download Our Price Guide
Discover the price of your floor fully installed and learn more about our extensive range of timber flooring.