LIFEWOOD FLOOR OF THE WEEK
The Natural Beauty Of Australian Spotted Gum Flooring
Perth, Willetton
"The workmanship is truly amazing, it really is a work of art."
Take a walk through our client's beautiful Spotted Gum flooring creation
What The Client Had To Say
"Our new house floor looks great, the workmanship is truly amazing. I would like to say many thanks to Tony and his team, it really is a "work of art" and the whole process was so well managed from the start right through to the installation"
The Client's Journey with Lifewood
The client was looking for a floor which promoted the distinctive traits of Australian timber without offsetting his elegant Hampton's style design.
Spotted Gum timber is a beautiful Australian species fitting for both traditional and contemporary styled homes.
Spotted Gum naturally contains variation in colour tone from rich brown to dark blonde and red. This natural variation makes it perfect for blending with other timbers throughout the home.
When it comes to comparing hardwoods, Spotted Gum is one of the hardest of all the Australian hardwoods, making it a great floor for homes with children, pets and a considerable amount of foot traffic.
See the full gallery of another beautiful Spotted Gum installation by Lifewood
Job and Installation Information
Type of Job:
Supply and installation of Lifewood's premium Spotted Gum timber flooring.
Product: Spotted Gum Australian timber flooring, 180mm wideboard pre-finished Stabilised Solid.
Coating: Satin finish with 7-layered polyurethane UV protective coating.
Areas Covered:
Ground floor entry
Library
Dining area
Kitchen
Passage
Storeroom
14 step Staircase with curved bottom step and 1 sqm landing
Upper floor landing and passage way
Upper floor sitting area
Upper floor bedrooms 2, 3 & 4
Installation time: 9 days
Spotted Gum Timber Flooring
Visit us at our award-winning Osborne Park showroom and take the Lifewood 20-minute tour.
In just 20 minutes our consultants are able to understand the scope of your project, work with your design needs and walk you through all of our flooring options.
Bring your house plan and we will measure it on the spot and give you a formal quote with samples to take home.
To start your new build on the right foot, choose Lifewood to help you create the floor of your dreams and the rest will look after itself.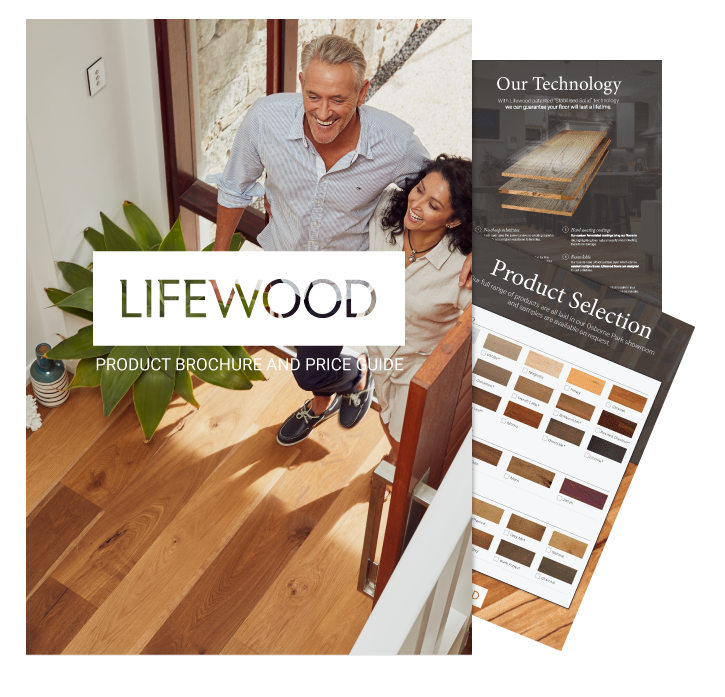 Download Our Price Guide
Discover the price of your floor fully installed and learn more about our extensive range of timber flooring.