Rustic Blackbutt Timber Flooring
Rustic Blackbutt Flooring
What makes a Rustic Blackbutt floor so rustic?
We created this Blackbutt variation floor specifically for the true lovers of the natural timber and those who appreciate a character floor. For each rustic floorboard we've hand selected the timber sections for higher grain variation and more natural feature.
PRODUCT SPECIFICATIONS
| | |
| --- | --- |
| Species: | Eucalyptus Pilularis |
| Hardness | 9.1kN |
| Thickness: | 15MM |
| Width: | 130MM – 180MM |
| Length: | 1820 – 2100MM |
| Nosing length: | 1800MM |
| Beading Length: | 1800MM |
Not sure how to choose a timber floor?
Download our Buyer's Guide to understand the most important questions, that help you discover the perfect floor for your home.
Premium Rustic Blackbutt Timber Flooring Gallery
Walk on our whole collection at our Osborne Park showroom and see the best Rustic Blackbutt flooring Perth has to offer at Lifewood.
STABILISED SOLID TECHNOLOGY
100% Rustic Blackbutt timber flooring from top to bottom
Our patented design combines the look and feel of solid timber with the strength and stability of Rustic Blackbutt engineered flooring.
Frequently Asked Questions about Lifewood Rustic Blackbutt Flooring.
WHERE DOES THE PRODUCT COME FROM?
We're proud to say that Lifewood is the only company in Australia that controls the whole manufacturing process of its product.
From ethically sourcing all our logs, to production quality assurance in our factories in Vietnam and Indonesia, we control and can guarantee that every stage of the Lifewood manufacturing process is ethical and sustainable.
Learn more about how we changed our business structure in order to guarantee our ethical approach and remove our product entirely from China.
IS YOUR FLOOR SOLID TIMBER OR ENGINEERED?
Lifewood flooring is a mixture of both thanks to our patented Stabilised Solid manufacturing structure.
Our boards are engineered using solid timber on all 3 layers of the board. This enables us to use the most beautiful part of the timber as the surface layer and the less attractive pieces as the bottom layers. We're able to utalise a lot more of the tree with this method.
The middle layer of the board is cross-engineered at a right angle and functions as the core layer of the board. This cross-layering gives the core the ability to yield to the natural movement of its environment, and yet hold this movement entirely within its core, so it does not affect the top and bottom layers of the floorboard. This detailed, extensive part of the process is precise and quality controlled with great attention.
HOW DURABLE IS THE FLOOR?
All Lifewood floors are pre-finished timber boards which come with 9 layers of Polyurethane protective coating, applied to all 6 sides of each board. This makes the floor highly resistant to spillage and day to day surface wear.
This advanced coating makes the floor suitable for active households and is pet-friendly. Commonly, most surface scratches will just mark the coating and not penetrate the wooden surface. These scratches can be easily covered with a textile marker which we give to all our clients.
HOW DO YOU INSTALL THE FLOOR?
We will always suggest to direct stick a Lifewood floor.
Direct stick is a method of installation where the floor boards are glued directly to the sub floor using timber floor adhesives.
The advantages of this way of installation are that you can sand and polish the floor more times giving your floor a much longer lifetime, plus it eliminates hollow echo from under the boards.
Explore homes with Rustic Blackbutt timber flooring.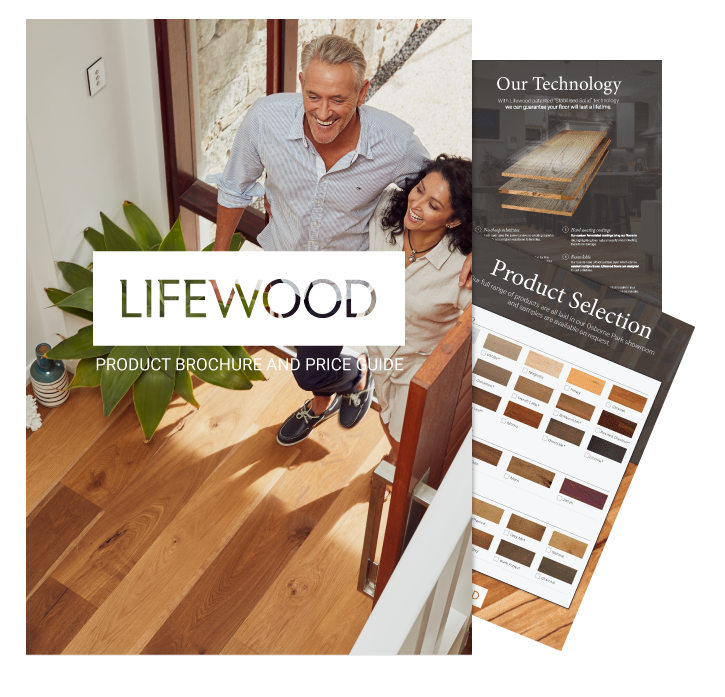 Discover the cost of your new Rustic Blackbutt floor, fully installed.
Transform your home in days.
We supply across Australia
Rustic Blackbutt Timber Flooring FAQ
What is Rustic Blackbutt flooring?
Rustic blackbutt timber flooring is a hardwood flooring made from the blackbutt tree species (scientific name: Eucalyptus pilularis) native to eastern Australia. The word "rustic" generally refers to the natural imperfections and irregularities in the wood intentionally left in place to create a more organic and rustic look.
Blackbutt timber is prized for its durability, strength, and resistance to fire, making it a popular choice for flooring in residential and commercial settings. It has a distinctive golden-brown color with a subtle grain pattern that varies from tree to tree, and it can be stained or finished to enhance its natural beauty.
Rustic blackbutt timber flooring is particularly popular because it adds character and warmth to any space. The natural knots, cracks, and other imperfections give the wood a unique personality that cannot be replicated by artificial materials. This type of flooring is ideal for those who appreciate a more natural and earthy aesthetic in their home or office.
What are the benefits of choosing rustic blackbutt timber flooring for my home or business?
Durability: Blackbutt timber is known for its strength and durability, making it an excellent choice for high-traffic areas like hallways, living rooms, and offices.
Natural beauty: The unique grain patterns and warm golden-brown color of blackbutt timber flooring create a warm and inviting ambiance in any space.
Low maintenance: Rustic blackbutt timber flooring is relatively easy to maintain and only requires regular sweeping and occasional polishing to keep it looking its best.
Eco-friendly: Blackbutt timber is a sustainable and renewable resource that can be harvested and replanted in a responsible manner, making it an environmentally friendly flooring option.
Versatility: Rustic blackbutt timber flooring can be stained or finished in a variety of ways to suit any interior design style, from traditional to modern.
Investment value: Installing rustic blackbutt timber flooring can increase the value of your property and make it more attractive to potential buyers.
What should I consider when selecting and installing rustic blackbutt timber flooring?
When selecting and installing rustic blackbutt timber flooring, there are several factors to consider, including:
Quality of the timber: High-quality timber is free from defects like knots, cracks, and insect damage. These imperfections can affect the durability and appearance of your flooring.
Grade of the timber: Blackbutt timber is available in standard and select ranges. Select-grade is more expensive but has fewer knots and imperfections, while standard-grade may have more visible knots and color variations.
Width of the planks: Rustic blackbutt timber flooring is available in different widths, from narrow planks to wider boards. The width of the planks can affect the overall look and feel of your flooring.
Installation method: Consider the installation method that will work best for your space, either floating, glued, or nailed down. It's important to check the pros and cons of each method and choose the right one for your needs.
Finishing: Decide on the finishing option that will work best for your space, either natural oil or water-based polyurethane. Each finishing option has its benefits, choose one that will provide the look and durability you desire.
Maintenance: Consider the maintenance requirements of your rustic blackbutt timber flooring, including regular cleaning and periodic polishing. Choose a maintenance routine that fits your lifestyle and budget.
Can rustic blackbutt timber flooring be used in high-traffic areas like kitchens and entryways?
Yes rustic blackbutt is a good option for high-traffic areas like kitchens and entryways. Blackbutt timber is known for its durability and strength, making it an excellent choice for areas with a lot of foot traffic. It is also resistant to scratches and dents, which can help it maintain its appearance over time.
However, all hardwood flooring can be susceptible to scratches and wear over time if it's not maintained properly. Regular sweeping, dusting, and cleaning with a hardwood flooring cleaner can help to protect your rustic blackbutt timber flooring from damage and keep it looking beautiful for years to come.
Use floor mats or area rugs in high-traffic areas to help prevent dirt and debris from scratching or damaging your flooring. Additionally, wipe up any spills or messes immediately to prevent them from staining or damaging your flooring.
Is rustic blackbutt timber flooring environmentally sustainable?
Yes, rustic blackbutt timber flooring is environmentally sustainable. Rustic blackbutt timber flooring is an environmentally sustainable choice that can help to reduce your carbon footprint and promote responsible and sustainable forest management practices.
Blackbutt timber is sourced from native Australian eucalyptus trees – a renewable and sustainable resource. The trees are harvested in a responsible and sustainable manner, which ensures that they can continue to be grown and harvested for generations to come.
Additionally, blackbutt timber has a lower carbon footprint than many other building materials, as it is a natural and biodegradable product that does not require significant energy to grow. Make it a more eco-friendly choice. Furthermore, rustic blackbutt timber flooring can be recycled and repurposed at the end of its useful life, reducing its environmental impact.
TRUSTED BY AUSTRALIA'S TOP BUILDERS & DESIGNERS