Australian Hardwood Flooring Perth Specialist
Australian Hardwood Flooring for Perth Homes
TRANSFORM YOUR HOME WITH THE NATURAL BEAUTY OF AUSTRALIAN HARDWOOD FLOORING
Come to see beautiful Australian hardwood flooring options in our Osborne Park showroom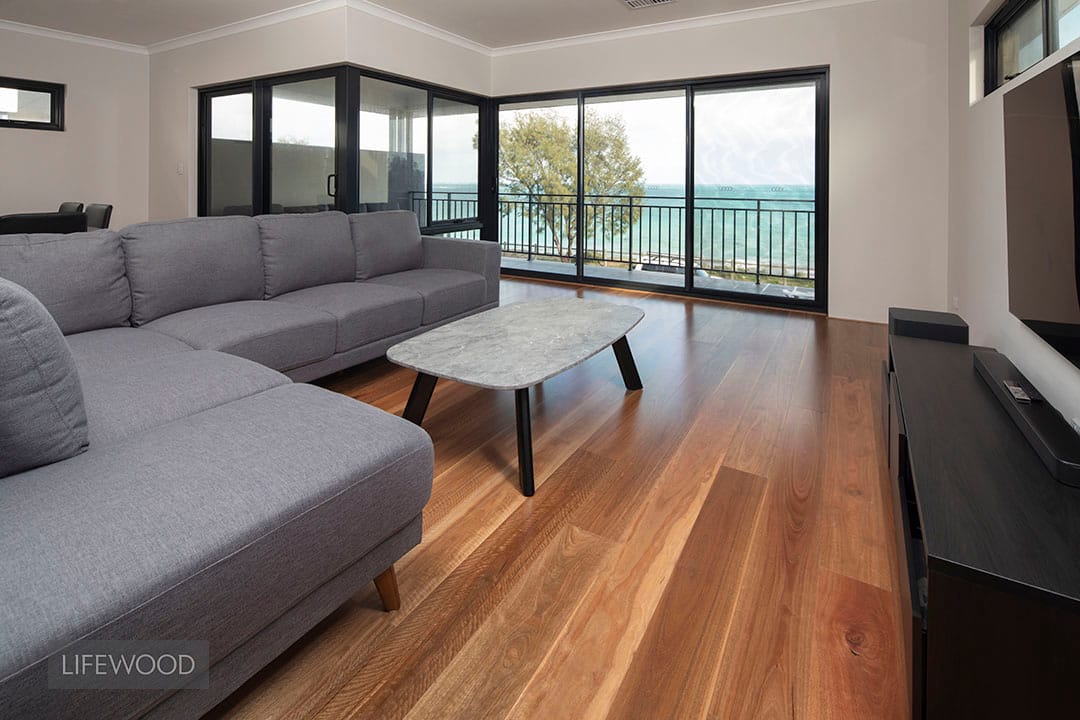 Spotted Gum Hardwood Timber Flooring
An Australian hardwood flooring of Spotted Gum demands your attention when you step onto it.  A flow of beautiful tones, from blond through to deep chocolate, highlights of rich reds, with low lights of softest pink… it can be as bold or subtle as you wish for your home.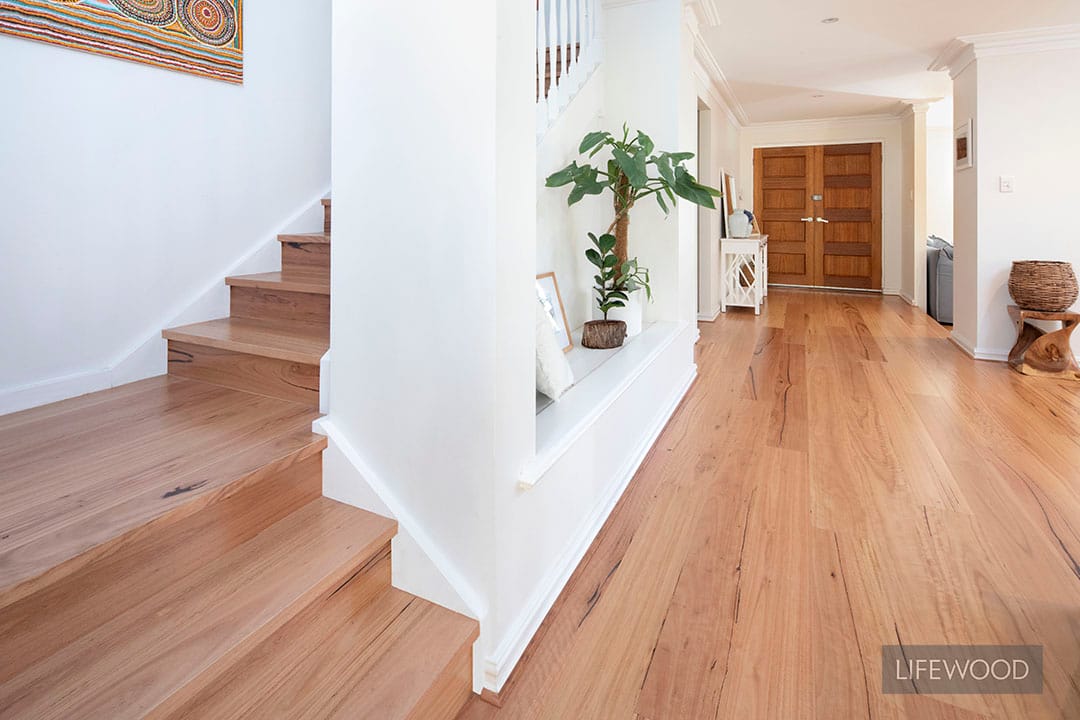 NSW Blackbutt Hardwood Timber Flooring
Eastern States, or NSW Blackbutt Australian hardwood flooring are a contemporary canvas of golden-brown tone, with pinkish hues. Warm in winter, breezy in summer, great for open spaces, they are flexible for all looks and lifestyles, from Scandi, to coastal to ultra-modern or olde-world.
Jarrah Hardwood Timber Flooring
A Jarrah hardwood floor feels like a rich red wine in front of an open fire – warm, enveloping, great for a both grand home steeped in history or for a smart, modern look. With its lush rose tones, this timeless, stunning timber is only grown in Western Australia's South West, and will add an abundance of atmosphere to any home.
WA Marri Hardwood Timber Flooring
Marri is an Australian hardwood floor that springs to life in any home, brimming with natures texture and personality. Predominately a light blond-coloured timber, Marri has distinctive black gum veins interwoven throughout the boards, and is a striking backdrop to the current industrial look, a rustic homely feel, or a simple contemporary home.
Grey Ironbark Hardwood Flooring
Grey Ironbark offers a large variety of colour from dark chocolate to nutty honey with some dark reddish brown. It is an extremely hard wearing timber that makes it perfect for high traffic commercial and domestic situations.
Rustic Blackbutt Hardwood Flooring
Rustic Blackbutt has all the hallmarks of Coastal Blackbutt colouring and grain with  more of the natural characteristics cause by the Australian environment. It's light warmth and character make it a versatile timber that is suitable for a variety of interior styles.
How does Lifewood timber flooring make differences
How we produce the most stable and beautiful hardwood flooring Perth offers
Watch videos of our customer homes installed with Lifewood Hardwood floors
Check out what our customers say about their experience with Lifewood
Visit our showroom, walk on different timber flooring collections and take FREE samples home
In just 20 minutes our consultants are able to understand the scope of your project, work with your design needs and walk you through all of our hardwood flooring options.
Bring your house plan and we will measure it on the spot and give you a formal quote with samples to take home.
To start your new build on the right foot, choose Lifewood to help you create the floor of your dreams and the rest will look after itself.
Discover the hardwood flooring cost for your home now
Bring the natural beauty of Australian hardwood timber into your home (1)
Just like our majestic countryside, Australian hardwood timber floors are durable, rich in colour and breathtakingly beautiful… It's easy to see why Australian hardwood timber is such a popular choice.
Stepping into a room with a grand sweep of Australian hardwood timber flooring underfoot is luxurious – a premium choice for your floors, which instantly brings a warmth of feeling.  It is also the perfect canvas from which to design your home: Whilst it is beautiful in its own right, timber floors also hold a neutrality upon which you can create whatever look you desire for your home.
Bring the natural beauty of Australian hardwood timber into your home (2)
We know how precious this natural resource is, which is why we take great care to ensure all of our timber is sourced from sustainable forestry. It's important to us to maintain harmony and ensure there is a balance between the needs of our customers and the needs of the environment.
With our Stabilised Solid technology, Lifewood offers the most durable timber flooring Perth has to offer. We have combined the beauty of Australian hardwood solid timber flooring with the structure of an engineered floor.
Should You Gloss Australian Hardwood Floors?
The floorboard finish on our Australian hardwood timbers is of the utmost importance. It will either enhance the wood, or take away its beauty. Lifewood have committed years to finding the very best product which will ensure the finish will only perfectly enrich your hardwood timber floors. Australian hardwood floors need a different finish to oak or bamboo flooring, because their colours and grains are so incredible. Here is how we achieve it.
Ten Layers Premium Coatings
To make the colour and grain pop, Lifewood has worked closely with European coating manufacturers to develop a specific coating system. Which needs attention paid to the chemistry of the coating and the gloss level. Firstly, the coating must not look cloudy; secondly, the finished gloss level must not be too reflective. Otherwise we can lose the overall colour of the timber. That is because if it reflects too much environmental light on the surface, then it doesn't showcase the colour of the timber in the room. On the other hand, if we use flat or no gloss finishes, we will lose the vibrant colours of the timber, because matte finishes make the coating cloudy. We have refined the gloss and coating clarity to bring out the best in our gorgeous Australian timber floors.
For Lifewood floors, we use premium quality coatings in 10 layers, which makes the coating never appear cloudy or opaque. And we finish our hardwood floorboards with both Satin and Semi-gloss. Also, our oil finishes are scratch-resistant and hard-wearing. Additionally, they are non-yellowing, so your floor will look beautiful for life. What's more, it helps protect the floorboard from damage and water.
The result is a balance between clarity of colour and reflectiveness, which gives a feeling that this timber is a showcase not to be ignored. It is silky to touch and walk on, and. As it enhances all the luxury timber tones, is warm and inviting as you walk into your home.
Find our the cost of your new floor