Spotted Gum Timber Flooring Perth Specialist
Premium Spotted Gum Flooring for Perth Homes
Species:   Eucalyptus maculata
Lifewood Spotted Gum Floorboards Use 100% Natural Spotted Gum Timber From Top To Bottom
Spotted Gum is Lifewood's Timber Flooring of 2020
Beautiful Homes With 130mm Spotted Gum Timber Flooring
Beautiful Homes With 180mm Spotted Gum Timber Flooring
Beautiful Homes With Spotted Gum Staircases
Discover the options we offer by downloading the following Spotted Gum flooring prices guide – fully installed.
Spotted Gum Flooring transforms your floor into a design centrepiece
Spotted Gum timber flooring grabs your attention the moment you step onto it.
A flow of beautiful tones, from blond through to deep chocolate, highlights of grey and rich reds, with low lights of softest pink hues… it can be as bold or subtle as you wish for your home.
Lifewood Spotted Gum engineered flooring will remain as stunning on day one, as they will forever, with our revolutionary Stabilised Solid technology. Scientifically developed over years of experience with timber milling, a Stabilised Solid board has a patented, engineered core, which stops the timber floorboards and floor from cupping or warping due to the reaction of moisture with the natural timber product.
The Stabilised Solid core is secured between a thick layer on top of the best quality and most beautiful looking part of the timber, and the base, which is a whole plank of the same uninterrupted timber. Using the same timber type for the whole floorboard creates balance and harmony within the board, and incredible stability.
It is also the most environmentally sustainable flooring practice in the world. – See our Spotted Gum flooring reviews
All our Spotted Gum engineered flooring boards are made of 3 layers of 100% Real Timber… no cheap substitutes
How does Lifewood timber flooring make differences
Real Australian Spotted Gum Flooring throughout your home
Throughout the spotted gum floorboards construction are multiple moisture barriers, with all layers bonded together with emission-safe glue. On the finished product, all six sides of each and every spotted gum floorboard are coated in an extra moisture barrier.
Spotted Gum timber flooring is one of the most popular Australian timber species among all of the Australian hardwood flooring options. Its wavy grain and mix of light brown tones produce an attractive blend of Australian timber tones and features.
Now you can have the stability of a spotted gum engineered flooring combined with the beauty of solid spotted gum timber floorboards. Lifewood Spotted Gum flooring also has a concealed tongue and groove system which makes each board sit perfectly flush while enhancing the level of water resistance.
The history of spotted gum timber speaks to its durability. This resilient Australian hardwood was used heavily for shipbuilding, construction, agricultural machinery and, of course, spotted gum floorboards.
Nowadays you will find it used everywhere – indoors, outdoors and structurally. You will see it in industry, used for wharf and bridge construction and in railway sleepers, and residentially in decks, frames, cladding, interior lining and of course, in beautiful solid spotted gum timber flooring.
Discover the cost of Spotted Gum timber flooring we offer by downloading the following  prices guide.
Lifewood Spotted Gum  Staircases
We source our own logs to ensure sustainability for all our Spotted Gum timber flooring needs
Spotted gum timber grows naturally in the forests of Queensland, New South Wales and Victoria. It has also been introduced in Western Australian and South Australia.
Lifewood sources it's spotted gum timber from the mid-north coast of NSW. Appropriate for fire-prone areas, spotted gum timber that is greater than 18mm thick does not require fire retardant treatment.
This hardwood has a very high durability against heavy traffic and is great for active families and those with pets. Choose from satin or semi-gloss finishes that are scratch resistant and hard wearing, and which enhance the beautiful grain and colour of spotted gum timber without cloudiness or an overly-reflective high gloss.
Discover the cost of Spotted Gum flooring with our downloadable price guide.
Features of a Lifewood Spotted Gum Engineered flooring …
Colour
Spotted Gum timber flooring is more varied in colour than the timbers in the rest of our range, which has become one of its more attractive features, displaying colour tones ranging from creams and rich browns to browns with grey undertones.
Hardness
Timber hardness is measured in a Janka rating, and each species of timber is given a rating. The higher the kN number, the greater the hardness. Spotted Gum has a rating of 11kN.
Specifications
Floorboard thickness      15mm Floorboard width             130 – 180mm Floorboard length            1820 – 2100mm Stair nosing length           1800mm Splay beading length       1800mm
Thanks to our patented technology we've got your floor protected from all forms of spillage and moisture.
Each layer uses the same hardwood, creating superior stability and a higher resistance to termites.
Only the highest grade boards are selected for the top layer, creating colour consistency and a beautiful looking floor.
3. Patented hardwood core
Our unique engineering method helps stabilise the board and reduces movement of the wood, which can result in cupping and shrinking.
No part of the timber log is wasted. No other timber is required to construct our floorboards.
Our custom formulated coatings bring our floors to life, highlighting their natural beauty and protecting them from damage.
Our boards have a thick surface layer which can be sanded multiple times. Lifewood floors are designed to last a lifetime.
We use very low emission glue that is safe in your home and guarantees the boards do not delaminate. There is also no need for coatings to be applied in your home.
Our patented core design prevents moisture getting into the board. We then coat the entire board in a moisture barrier for added protection.
Discover the options we offer by downloading the following Spotted Gum flooring prices guide – fully installed.
Visit Our Showroom Today And Experience It For Yourself
18 Hector Street West Osborne Park
Discover the cost of spotted gum flooring – fully installed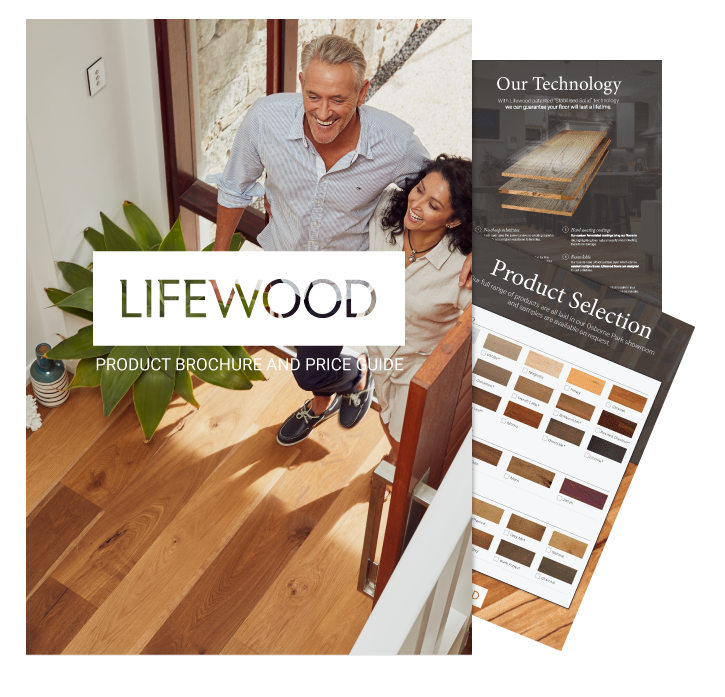 Download Price Guide
Discover the price of your floor, fully installed.
We plant trees to replace every floor
Trillion Trees is our trusted tree planting partner