DISCOVER THE TIMBER FLOORING PRICE OF YOUR NEW HOME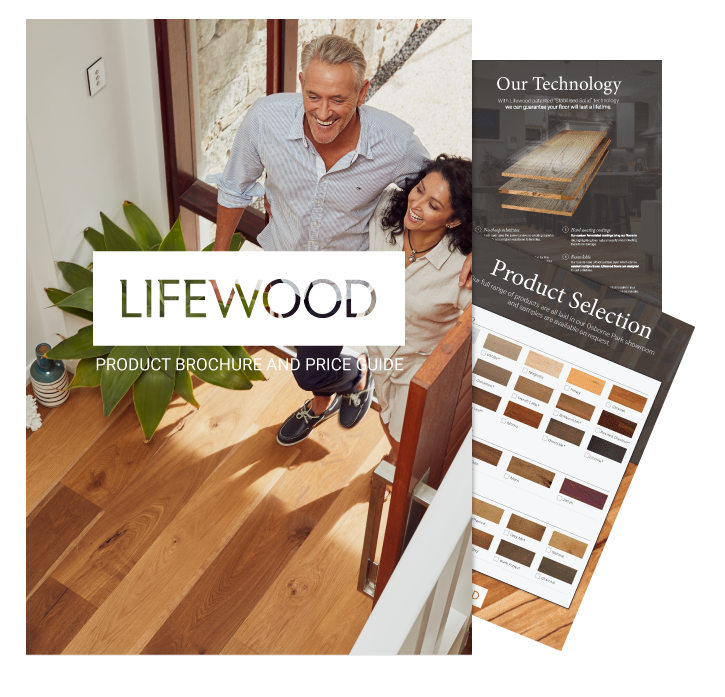 "Bring your family to see, feel, and walk on our collection of Australian Timber and French Oak Flooring"
Our Lifewood family is responsible for the smooth and flawless addition of an amazing wooden floor into your home, from design to finished installation. You can find out the timber flooring price for your home by visiting our showroom, or download the timber flooring price list here.
Choose, with us, from a range of luxurious hardwood floor designs, perfect for the Australian lifestyle and climate. Every floorboard is manufactured by Lifewood using our world-first, patented Stabilised Solid technology, guaranteeing your hardwood flooring will look the same on day one, and forever.
Lifewood Timber Floorboards
100% Hardwood From Top to Bottom
No Cheap Substitutes!
SCROLL DOWN TO LEARN MORE ABOUT OUR PATENTED TECHNOLOGY STABILISED SOLID®
A flow of beautiful tones, from blond through to deep chocolate, highlights of greys and rich reds, with low lights of softest pink hues… it can be as bold or subtle as you wish for your home.
Predominately a light blond-coloured timber, Marri has distinctive black gum veins interwoven throughout the boards, and is a striking backdrop to the current industrial look, a rustic homely feel, or a simple contemporary home.
NSW Blackbutt Floorboards
A wonderful softly-toned canvas for all styles of home. It's light colour is perfect in contemporary homes, creating an impression of wide open space, but you'll find it so versatile you can picture it almost anywhere.
A Jarrah hardwood floor feels like a rich red wine in front of an open fire – warm, enveloping, great for a both grand home steeped in history or for a smart, modern look.
French Oak timber flooring has an elegance that is hard to find in any other a flooring product. Due to its availability, strength and beauty, Oak became the most popular wood flooring material in both Europe and North America.
A Lifewood Australian Timber or French Oak staircase will be the perfect design addition to your home, bringing a sense of natural beauty and elegance.
Whether you want it to be a standalone feature, or a central point connecting the rest of your architectural design and decor, our selection of timber styles and accessories will bring your stairs to life.
With Lifewood patented "Stabilised Solid" technology we guarantee your timber floor will last a lifetime.
Each layer uses the same hardwood, creating superior stability and a higher resistance to termites.
Only the highest grade boards are selected for the top layer, creating colour consistency and a beautiful looking floor.
3. Patented hardwood core
Our unique engineering method stabilises the board and prevents movement of the wood, which can result in cupping and shrinking.
No part of the timber log is wasted. No other timber is required to construct our floorboards.
Our custom formulated coatings bring our floors to life, highlighting their natural beauty and protecting them from damage.
Our boards have a thick surface layer which can be sanded multiple times. Lifewood floors are designed to last a lifetime.
We use very low emission glue that is safe in your home and guarantees the boards do not delaminate. There is also no need for coatings to be applied in your home.
Our patented core design prevents moisture getting into the board. We then coat the entire board in a moisture barrier for added protection.
Over 6,500 happy customers and counting
Walk Through Our Customer's Homes
Multi-Award Winning Company
Why Lifewood is a Better Long-term Flooring Choice
Handles moisture
Scratch resistant technology
Will not warp or cup
Easy to clean and maintain
Easily repair or replace individual floorboards
Re-sand and polished, multiple times
One job contact from beginning to end
Non-yellowing coating system
Easy to clean and maintain
Engineered to resist the natural movement
We are proud to have worked with these builders
Get Your Timber Flooring Price Guide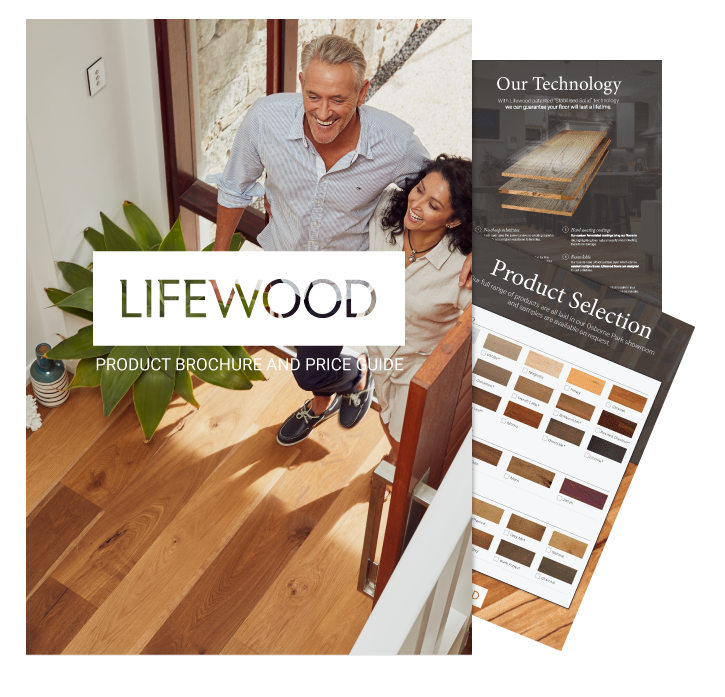 Chat with our friendly flooring consultants