Australian Blackbutt Timber with a Timeless Rustic look
THE RUSTIC COLLECTION – EXCLUSIVE TO LIFEWOOD
Iconically Australian, Uniquely Beautiful
With its incredible hardness, Rustic Blackbutt is designed to stand up to the rigors of busy Australian households, offering a lifetime of aesthetic and functional excellence.
Its distinct grain patterns, gum veins, and natural elements make each plank a unique masterpiece, ensuring that your floor is not only stunning but also uniquely yours.
Real timber from top to bottom
Cross engineered structure with 3 layers of solid Blackbutt timber.
A New Standard in Durability
Rustic Blackbutt isn't just another flooring option; it's a long-term investment in your home. Known for its remarkable hardness, this timber withstands the test of time, traffic, and the hustle and bustle of busy Australian households. Make the smart choice for a lifetime of durability.
UNIQUENESS IN EVERY BOARD
A flooring centrepiece, unique to your home.
When you choose Lifewood's Rustic Blackbutt, you're not just selecting a flooring solution, you're acquiring a personalised masterpiece for your home. Each Rustic Blackbutt plank is an individual work of art, featuring its own distinct grain, gum vein, and natural elements.
With Lifewood, your floor becomes an exclusive canvas, transforming your home into a gallery of natural beauty.
A Vibrant Alternative to Marri which won't darken over time
Unlike Marri, Rustic Blackbutt doesn't darken dramatically over time. Its vibrant look and feel are not just temporary features; they're everlasting qualities. It's the timber that ages gracefully, making your home's future as bright as its present.
Bring the natural beauty of Rustic Blackbutt into your home.
Inspired by our love for timber.
"We only offer tree species where we know we can certify the origin and it's completely sustainable."– Mark Hutchison, Founder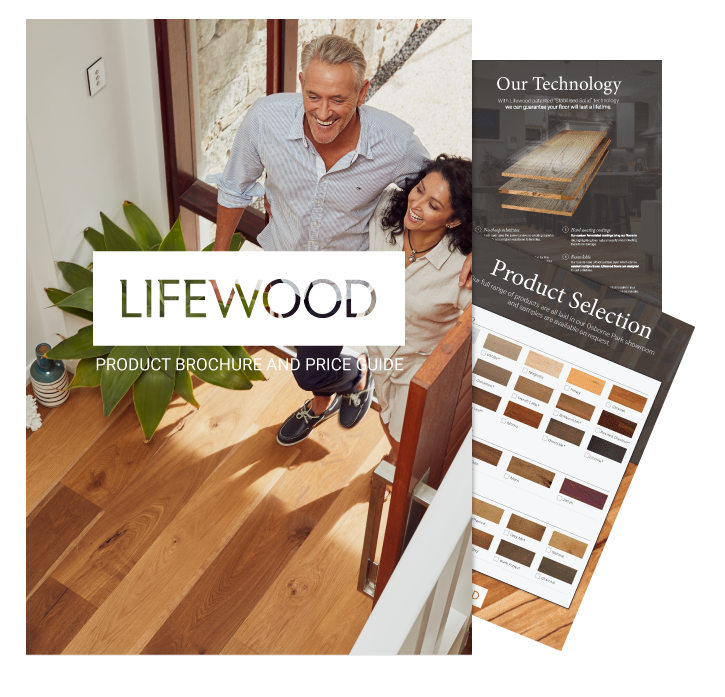 Discover the cost of your new floor, fully installed.
Download our product guide to see all our pricing options and extensive range of timbers.
We supply across Australia