Distinguished Look and Timeless Elegance With Black Forest Oak Flooring
Perth, Bayswater
"Every board is designed to stand the test of time and age gracefully"
Take a walk through our client's beautiful French Oak timber flooring creation
French Oak flooring designed to match all styles of home
French Oak flooring is globally known for it's distinguished look and durability… and this week's featured floor of the week is a perfect example of that.
French Oak is a clean timber with beautiful grain making it ideal for staining to create colour combinations to match all styles of decor and design. Here at Lifewood we have done exactly that.
Our French Oak flooring collection ranges from Ice White, our lightest blend, all the way to Black Forest which you can see in the gallery below.
See the full gallery of another French Oak flooring creation by Lifewood
Job and Installation Information
Type of Job: Supply and installation of Lifewood's premium French oak timber flooring.
Product: Lifewood Stabilised Solid French Oak timber flooring, 220mm pre-finished Stabilised Solid.
Coating: Matte finish with 7-layered polyurethane UV protective coating.
Areas Covered:
Ground floor entrance passage
Open plan dining and living area
Kitchen
Upstairs lounge area
Upstairs hallway
Installer
Installation time: 5 days
Lifewood Stabilised Solid Patented Flooring Structure
Visit us at our award-winning Osborne Park showroom and take the Lifewood 20-minute tour.
In just 20 minutes our consultants are able to understand the scope of your project, work with your design needs and walk you through all of our flooring options. Bring your house plan and we will measure it on the spot and give you a formal quote with samples to take home. To start your new build on the right foot, choose Lifewood to help you create the floor of your dreams and the rest will look after itself.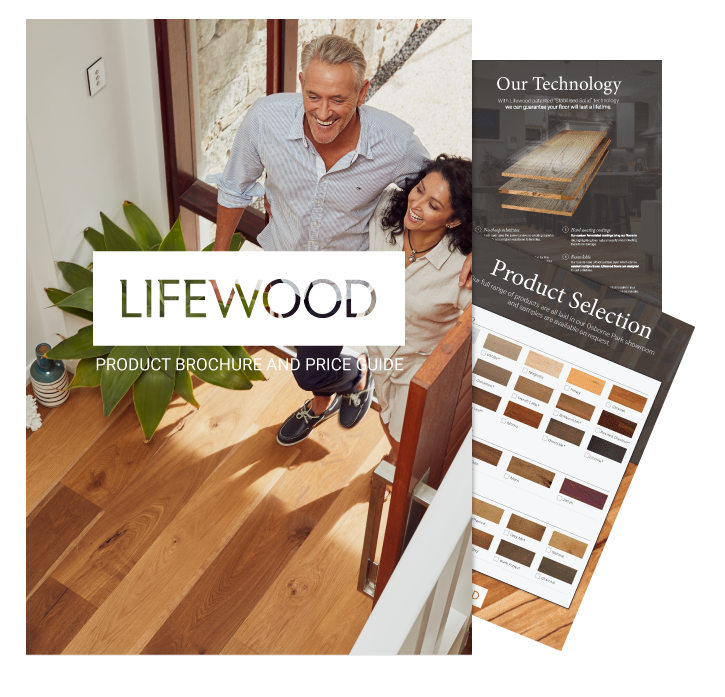 Download Our Price Guide
Discover the price of your floor fully installed and learn more about our extensive range of timber flooring.