New home new life
Embelton
Create a beautiful home with Australian Timber       
Take a walk through our client's renovation with Lifewood Marri floorboards.
"Great experience from start to finish "
                                       "Great experience from start to finish. Everyone was easy to deal with, queries were always responded to promptly. The installer left the site in a clean and tidy state after the job was completed. We are very impressed with our floors and have already recommended Lifewood to others."
                                                                                                                                       Linh
Job and Installation Information
Type of Job:
Removal of existing flooring. Supply and installation of Lifewood's premium Marri Flooring.
Product:
Coating:
Semi-Gloss finish with 9-layered polyurethane UV protective coating.
Total areas:
Entry
Living
Lounge room
Kitchen
Passage
Bedrooms
Mezzanine
Lifewood's Marri is a real Australian Hardwood floorboard made with our patented design structure
All our floors are engineered using our patented Stabilised Solid® design. This design uniquely combines the look and feel of solid timber flooring with an advanced engineered structure. Only available at Lifewood.
Visit us at our award-winning Osborne Park showroom
In just 20 minutes our consultants are able to understand the scope of your project, work with your design needs and walk you through all of our flooring options. Bring your house plan and we will measure it on the spot and give you a formal quote with samples to take home. To start your new build on the right foot, choose Lifewood to help you create the floor of your dreams and the rest will look after itself.
– Get Directions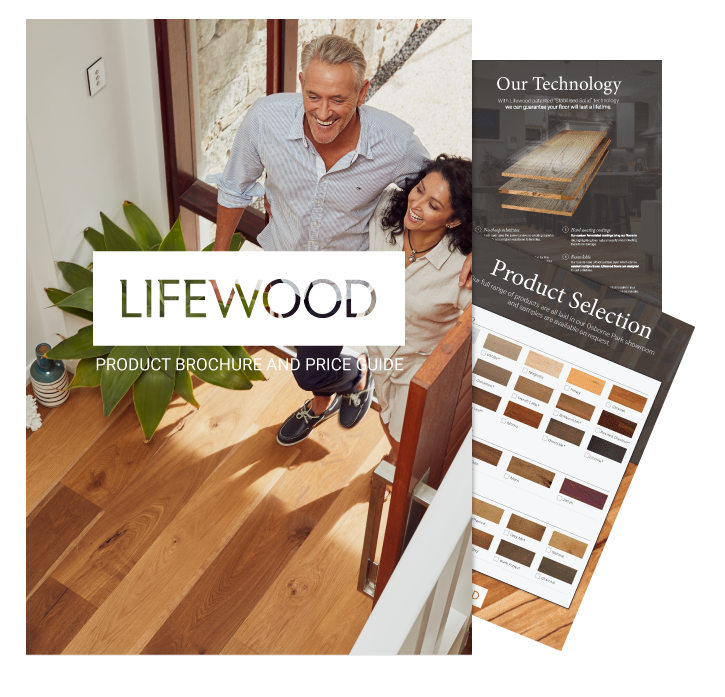 Download Our Price Guide
Discover the price of your floor fully installed and learn more about our extensive range of timber flooring.