Modern, Easy to Clean, Family Friendly Oak Flooring
Doubleview, Perth
"French Oak Smoked is very family friendly, it doesn't show the dirt"
Take a walk through our client's beautiful oak flooring a hear about their experience with Lifewood.
What the client had to say
I'm very happy with the flooring selection.
I found that the French Oak Smoked is very family friendly, it doesn't show the dirt as much which is great with the kids. It makes the house a bit more modern and complements our existing, I guess furniture choices and design style.
We've been very happy with the process and the selection of this wood flooring.
Job and Installation Information
Type of Job:
Supply and install Lifewood's family friendly Oak flooring.
Product:
Coating:
Matte finish with 9-layered polyurethane UV protective coating.
Total Flooring Areas:
Entry
Passage (including 3 custom steps)
Study
Drop zone
Theatre
Dining
Living
Scullery
Walk in pantry
Staircase
Lifewood's Smoked French Oak Flooring
All our floors are engineered using our patented Stabilised Solid® design. This design uniquely combines the look and feel of solid timber flooring with an advanced engineered structure making a family friendly oak flooring. Only available at Lifewood.
Visit us at our award-winning Osborne Park showroom
In just 20 minutes our consultants are able to understand the scope of your project, work with your design needs and walk you through all of our flooring options.
Bring your house plan and we will measure it on the spot and give you a formal quote with samples to take home.
To start your new build on the right foot, choose Lifewood to help you create the floor of your dreams and the rest will look after itself.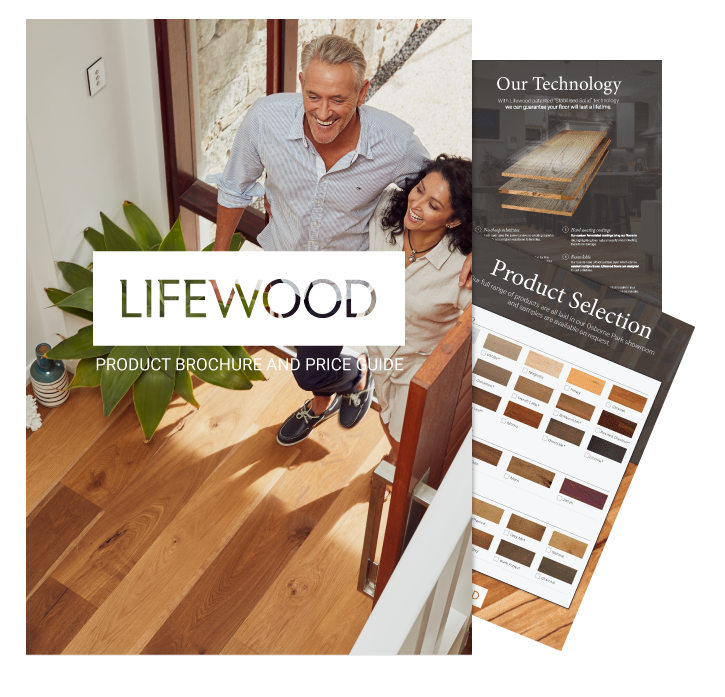 Download Our Price Guide
Discover the price of your floor fully installed and learn more about our extensive range of timber flooring.