Spotted Gum Renovation
Madeley
Create a beautiful home with Australian Timber       
Take a walk through our client's renovation with Lifewood Spotted Gum floorboards.
"Our forever home looks wonderful "
                                       "Our experience with Lifewood was wonderful from when we walked into their showroom to the day they finished our floors. We know that having your flooring removed and replaced can be daunting and overwhelming especially if you are still living in your space but Mark, Tony, Kyle and Brent made the whole experience an enjoyable one. We would certainly recommend that if you are wanting a quality product that is comparable cost wise in the current marketplace then look no further. Our forever home looks wonderful and it's an absolute joy to walk on. Thankyou Mark and your team of professionals for communicating openly, providing outstanding customer service and looking after us every step of the way as you all responded to our needs as if our home was yours. Thankyou, we appreciate it!"
                                                                                                                                       Christine
Job and Installation Information
Type of Job:
Removal of existing flooring. Supply and installation of Lifewood's premium Spotted Gum Flooring.
Product:
Coating:
Semi-Gloss finish with 9-layered polyurethane UV protective coating.
Total areas:
Entry
Living
Lounge room
Kitchen
Passage
Lifewood's Spotted Gum is a real Australian Hardwood floorboard made with our patented design structure
All our floors are engineered using our patented Stabilised Solid® design. This design uniquely combines the look and feel of solid timber flooring with an advanced engineered structure. Only available at Lifewood.
Visit us at our award-winning Osborne Park showroom
In just 20 minutes our consultants are able to understand the scope of your project, work with your design needs and walk you through all of our flooring options. Bring your house plan and we will measure it on the spot and give you a formal quote with samples to take home. To start your new build on the right foot, choose Lifewood to help you create the floor of your dreams and the rest will look after itself.
– Get Directions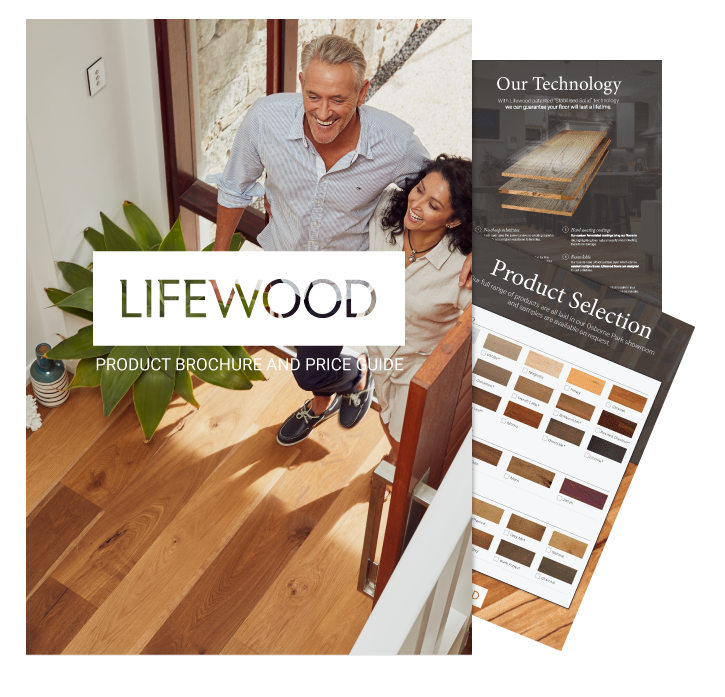 Download Our Price Guide
Discover the price of your floor fully installed and learn more about our extensive range of timber flooring.