Add Character to Your Home with Beautiful Timber Flooring Combinations
Shenton Park, Perth
"The floor really brightens up the place and adds so much character"
Take a walk through our client's beautiful home and see their timber flooring combinations with Marri and Jarrah.
The moment they walked into the showroom, our clients were instantly drawn the the Australian collection and loved the character grains found in Marri timber.
They are a young family who were adding an extension to an older styled home which currently had Jarrah floorboards and were seeking advice for timber flooring combinations. They wanted to maintain the natural timber look but wanted something brighter than the jarrah as the new extension was an open plan kitchen, dining, living area with lots of natural light.
With some support from our flooring consultants they decided on our 130mm Marri flooring with a semi-gloss finish. The floor really brightens up the space and adds a beautifully natural vibrance to their home.
Job and Installation Information
Type of Job:
Supply and install Lifewood's Marri flooring for home extension with support from our consultants for timber flooring combinations
Product:
Coating:
Matte finish with 9-layered polyurethane UV protective coating.
Areas Covered:
Kitchen
Dinning area
Living room
Lifewood Installer:
Lifewood's Marri Timber Flooring
All our floors are engineered using our patented Stabilised Solid® design. This design uniquely combines the look and feel of solid timber flooring with an advanced engineered structure. Only available at Lifewood.
Visit us at our award-winning Osborne Park showroom
In just 20 minutes our consultants are able to understand the scope of your project, work with your design needs and walk you through all of our flooring options.
Bring your house plan and we will measure it on the spot and give you a formal quote with samples to take home. T
o start your new build on the right foot, choose Lifewood to help you create the floor of your dreams and the rest will look after itself.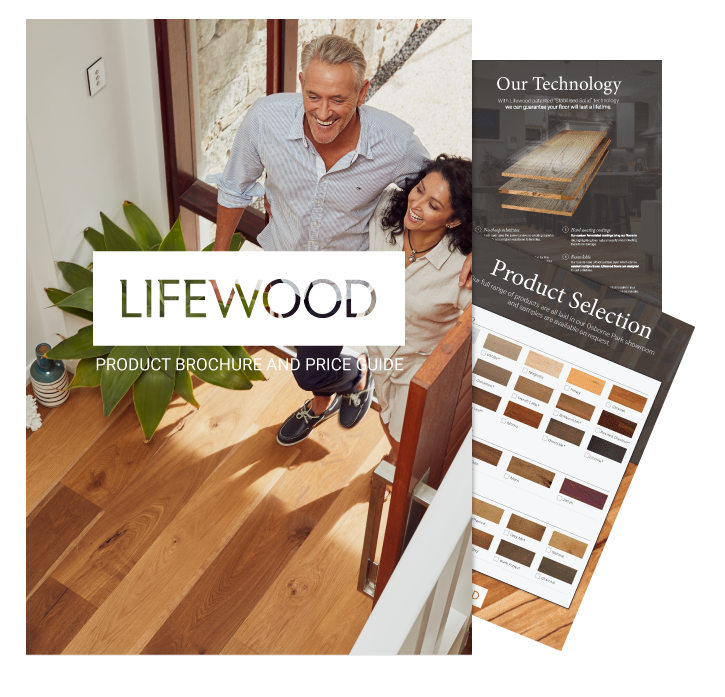 Download Our Price Guide
Discover the price of your floor fully installed and learn more about our extensive range of timber flooring.