Australian Country Design with Blackbutt Flooring
Perth, Bush Mead
"I can't praise the professionalism of everyone that I've had contact with enough."
Take a walk through our client's beautiful Blackbutt flooring design
The Client's Journey With Lifewood
"Having just had my new floors installed, I can't praise the professionalism of everyone that I've had contact with enough.
From starting with Tony, his transparency of costs and info about the product was first class.
Moving to scheduling with Kyle and the installation with Johnny both made this such easy and enjoyable experience, showing great attention to detail and easy communication skills."
These are the steps we take to create a world-class floorboard guaranteed to last lifetime.
See the full gallery of another beautiful Blackbutt floor by Lifewood
Job and Installation Information
Type of Job:
Supply and installation of Lifewood's premium Blackbutt timber flooring.
Product:
Coating:
Satin finish with 9-layered polyurethane UV protective coating.
Areas Covered:
Ground Floor
Entry
Family room
Meals
Kitchen
Walk in pantry
Skirting of all areas
Installer
Installation time:
Pre-finished Solid Blackbutt Flooring
Suitably Designed For Comfortable Living
One of the client's main concerns was whether our Blackbutt timber planks were suitable for laying in areas more prone to spillage. Thanks to our patented Stabilised Solid technology, all of our floors are designed to be moisture resistant and extra hard wearing.
Visit us at our award-winning Osborne Park showroom and take the Lifewood 20-minute tour.
In just 20 minutes our consultants are able to understand the scope of your project, work with your design needs and walk you through all of our flooring options.
Bring your house plan and we will measure it on the spot and give you a formal quote with samples to take home.
To start your new build on the right foot, choose Lifewood to help you create the floor of your dreams and the rest will look after itself.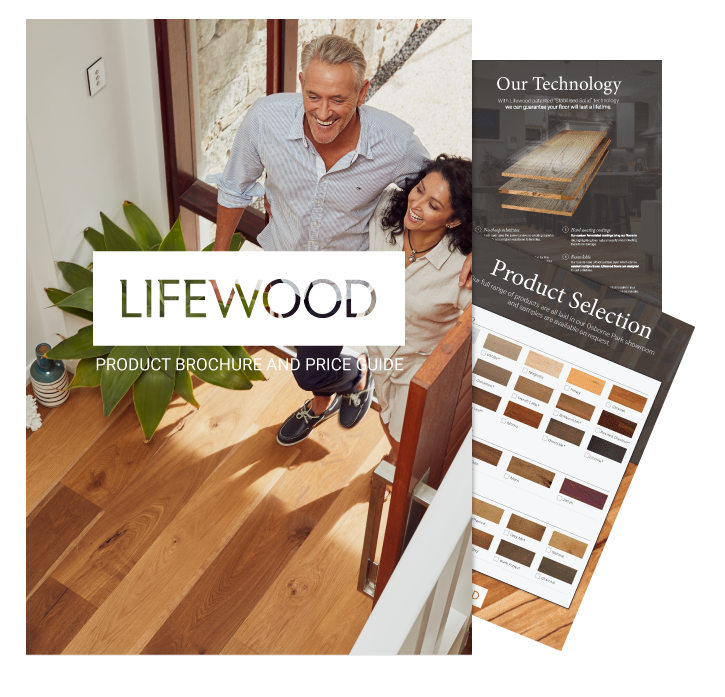 Download Our Price Guide
Discover the price of your floor fully installed and learn more about our extensive range of timber flooring.