FLOOR OF THE WEEK
Lifewood Blackbutt Timber Flooring
Perth, Daglish
Our Client's Journey of Choosing Lifewood Blackbutt Flooring
It was an absolute pleasure working with the client and the builder Novus Homes.
The moment they walked into showroom they gravitated towards our Australian timber collection. Lifewood flooring consultant Tony was able to understand their project and the look they were hoping to achieve with their new home. The client was looking to create a contemporary look mixed with the natural elegance of a timber floor.
The floor had to hold some of the distinctive elements of timber flooring but they didn't want extreme colour variances between each board. Once understanding the scope of the project it was obvious that Lifewood Blacbutt would be an appropriate choice for the design style of the home.
Take a tour through their beautiful home..
Job and Installation Information
Type of Job: Supply and installation of Lifewood's premium Blackbutt timber flooring
Product: New South Wales Blackbutt, 180mm wideboard pre-finished Stabilised Solid.
Coating: Satin finish with 7-layered polyurethane UV protective coating
Areas Covered:
Ground floor: We covered the entry, passageway, walk in linen, living area, dining, kitchen and scullery
Staircase: 16 stairs with 100% real Blackbutt nosings and risers with a landing
Upper floor: Activity area and passageway
Installation time: 7 days
Visit our showroom today and see it for yourself
Learn more about our extensive range of timber flooring, visit our award-winning showroom where you can walk on our whole collection. All our floors are laid in the showroon and our skilled consultants can help you discover the perfect floor for your home.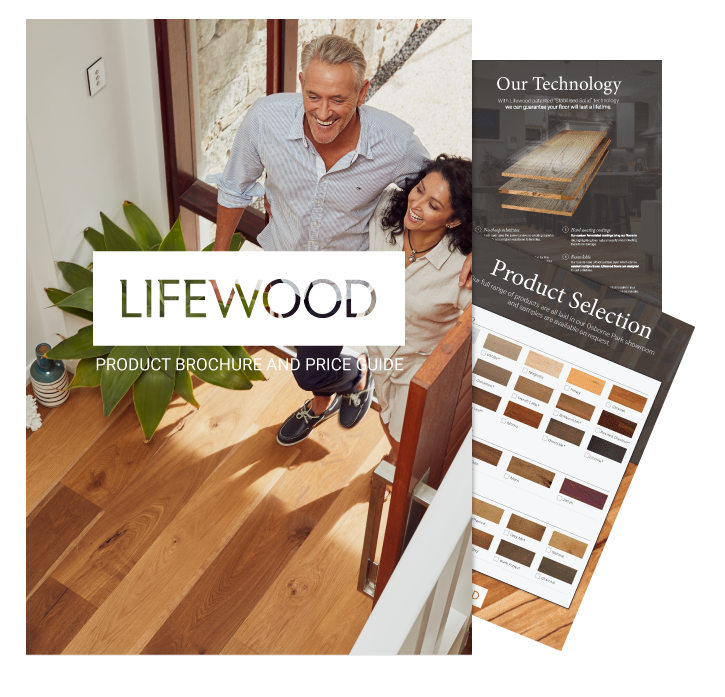 Download Our Price Guide
Discover the price of your floor fully installed and learn more about our extensive range of timber flooring.