FLOOR OF THE WEEK
Blackbutt Timber Floor Renovation
Perth, Hillarys
See a recent flooring renovation where our team of craftsmen install 160 metres and a staircase in just 5 days… ready to walk on immediately!
In this timber floor renovation we transformed the clients new home with Blackbutt timber flooring, seamlessly and conveniently before they moved in
1. First encounter with Lifewood
After visiting our showroom and speaking with our consultants about their flooring renovation, it was clear that our NSW Blackbutt would not only work in with the characteristics of existing features but also enhance a modern feel.
2. We visited the home 
Our consultant met with the owner on site to measure the area and confirm the details of the flooring renovation project. Specifically the details of the staircase, removing the existing flooring and leveling requirements which needed adjustment prior to the installation.
Timber Floor Renovation Begins…
3. Day 1 of installation 
After we were given a start date from the client to begin the flooring renovation, we then started the process of removing all the existing flooring.
Our team on day 1 removed all carpet, delivered material and set about preparing the sub-floor for installation to begin the following day.
4. Day 2 of installation
Final prep-work on the ground floor was completed whilst installation begun on the upper floor.
5. Day 3 of installation
Completed upper floor and began working on the staircase.
6. Day 4 of installation
Completed staircase and begun works on the ground floor.
7. Day 5 of installation
Completed timber flooring renovation on the ground floor, applied beading, felted clients furniture, cleaned up site and disposed of all rubbish.
Our Gold Package has been designed to make the installation of a new floor simple, quick and convenient, perfect for your flooring renovation.
Timber Floor Renovation Information
Type of Job:
Supply and installation of Lifewood's premium NSW Blackbutt timber flooring for flooring renovation
Product: Blackbutt timber flooring, 130mm wide pre-finished Stabilised Solid
Coating: Semi-gloss finish with 7-layered polyurethane UV protective coating
Total areas size: 168 square metres
Areas Covered:
Ground floor alfresco
2 steps to the garage
16 stairs with Blackbutt nosings and risers, 1 return and top step, 2 x landings
Upper floor balcony
Upper floor living area meeting up to kitchen tiles
Installation time: 5 days
See Previous Floors of the Week
Visit our showroom and walk on our exclusive hardwood collection
In just 20 minutes our consultants are able to understand the scope of your project, work with your design needs and walk you through all of our flooring options.
Bring your house plan and we will measure it on the spot and give you a formal quote with samples to take home.
To start your new build on the right foot, choose Lifewood to help you create the floor of your dreams and the rest will look after itself.
Download Our Price Guide And Discover The Price Of Your Floor - Fully Installed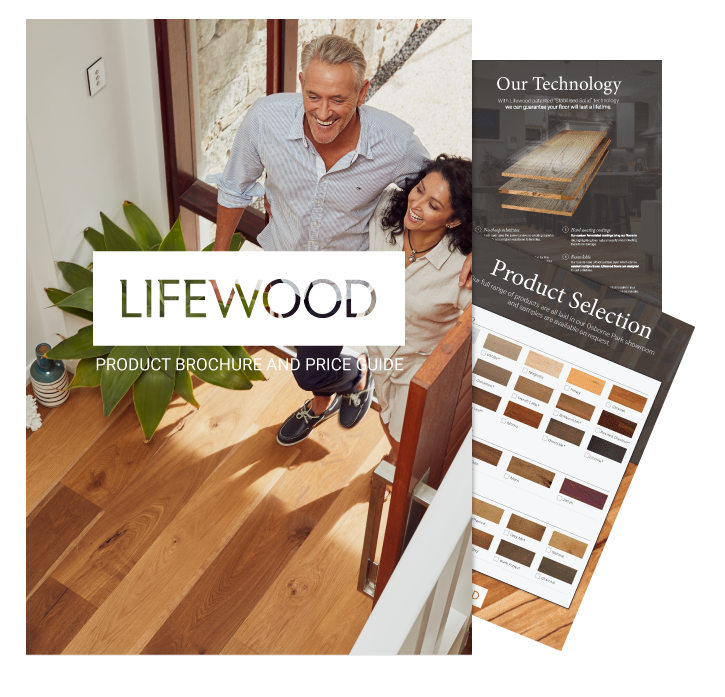 Download Our Price Guide
Discover the price of your floor fully installed and learn more about our extensive range of timber flooring.