Long & Wide Limed Wash Oak Flooring
 Long, Wide & Real Oak Floorboards Installed Just in Days
Coogee, Perth
"Lifewood have stood out from the rest from the moment we walked into the showroom."
Take a walk through our client's beautiful limed wash oak flooring and hear about their experience installing Lifewood oak floorboards.
What the client had to say
Having undertaken a major home renovation this year we have dealt with a lot of different trades.
Lifewood have stood out from the rest from the moment we walked into the showroom.
Tony was extremely friendly and helpful the few times we visited offering all of the required information without pushing a sale. The quote came through as expected without any surprises. The prep processes including concrete and timber sanding and levelling were handled professionally and on time and were nowhere near as painful as they could have been given we were living in the house at the time. Communication was always forthcoming and accurate.
After all that the most important part was the end product. Lifewood were able and happy to facilitate our "waterfall" stairs. The quality of workmanship and speed of laying the floors by Hank were exceptional.
We are very happy customers. Post sales follow up has also been very good.
Without hesitation I would recommend Lifewood to family and friends and would feel comfortable that they would have a similar experience as we did.
Job and Installation Information
Type of Job:
Supply and installation of Lifewood's premium French Oak Limed Wash real oak floorboard.
Product:
Coating:
Matte finish with 9-layered polyurethane UV protective coating.
Total areas:
Entry
Living
Dining
Bar
Meals
Family room
Kitchen
Passageway
Games room
Bedroom 1 with WIR
Staircase with waterfall steps
Landing
Installers:
Lifewood's Limed Wash is a real oak floorboard made with our patented design structure
All our floors are engineered using our patented Stabilised Solid® design. This design uniquely combines the look and feel of solid timber flooring with an advanced engineered structure. Only available at Lifewood.
Visit us at our award-winning Osborne Park showroom
In just 20 minutes our consultants are able to understand the scope of your project, work with your design needs and walk you through all of our flooring options.
Bring your house plan and we will measure it on the spot and give you a formal quote with samples to take home.
To start your new build on the right foot, choose Lifewood to help you create the floor of your dreams and the rest will look after itself. – Get Directions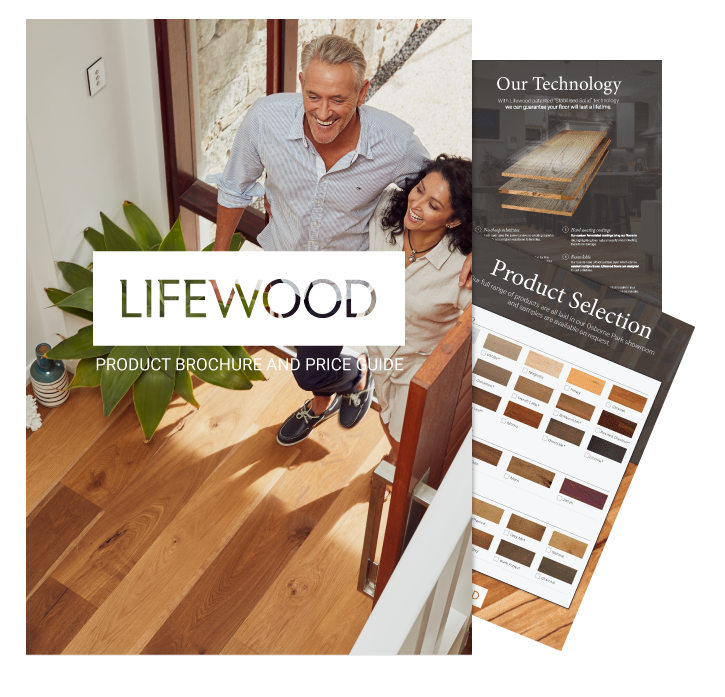 Download Our Price Guide
Discover the price of your floor fully installed and learn more about our extensive range of timber flooring.