Experience Real Luxury with Black Forest Engineered Oak Flooring
Perth, Coolbinia
"I was really happy that the floors were pre-finished and once they go down that's it, they're finished and ready to walk on."
Take a walk through our client's beautiful engineered oak flooring creation
The Client's Journey With Lifewood
"We've been building now for over 12 years and it's finally time to build our new home, we've kind of out grown our last family home. It took a lot of design and planning to build our home and put everything into it that we really wanted.
We visited a number of different timber suppliers around Perth to see what products were out there and when we came across Lifewood's products we were very impressed. They were of a really outstanding quality and we were just happy with the fabrication and how the boards were made so that convinced us from the start that we wanted to have the Lifewood oak flooring in our home.
We visited the Lifewood showroom in Osborne Park and we were amazed at the size and what they had to offer in terms of the different timber species. I was immediately drawn to the oak flooring and the next choice was obviously to choose a colour, and there are a number of colours on offer.
I narrowed it down to two colours, the Black Forest and the Charcoal. I had a strong preference for the Black Forest and right up until almost install day, I sort of still had a little seed of doubt.
Tony came out to site and brought along a few boxes of both the Black Forest and Charcoal flooring and we laid them out in the rooms they were going to be laid in. Once they were down, with all the lighting, we immediately knew that we were going to go with the Black Forest oak flooring. That convinced us of our choice and we were very happy.
Installation happened over couple of days which was a really quick turnaround. I was really happy that the floors were pre-finished and once they go down that's it, they're finished and ready to walk on. There's no sanding or staining or painting, or anything else required.
They're just laid and they're done."
See the full gallery of another beautiful Engineered Oak flooring creation by Lifewood
Job and Installation Information
Type of Job:
Supply and installation of Lifewood's premium Engineered Oak flooring.
Product:
Coating:
Semi-gloss finish with 9-layered polyurethane UV protective coating.
Areas Covered:
Ground Floor
Staircase with 16 steps
2 x 1 squared metre landing
Upper Floor
Staircase with 16 steps
2 x 1 squared metre landing
Foyer
Sitting room
Breakout zone
WIL
Installer
Installation time:
Pre-finished Engineered Oak Flooring – Real Timber From Top to Bottom!
Visit us at our award-winning Osborne Park showroom and take the Lifewood 20-minute tour.
In just 20 minutes our consultants are able to understand the scope of your project, work with your design needs and walk you through all of our flooring options. Bring your house plan and we will measure it on the spot and give you a formal quote with samples to take home. To start your new build on the right foot, choose Lifewood to help you create the floor of your dreams and the rest will look after itself.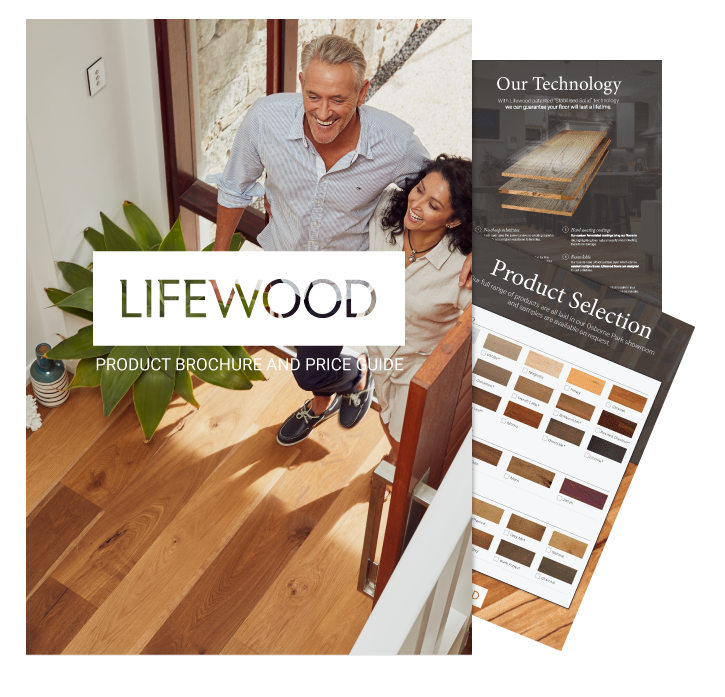 Download Our Price Guide
Discover the price of your floor fully installed and learn more about our extensive range of timber flooring.