Create Space & Clarity with Blackbutt Timber Flooring
Perth, Bull Creek
"Create flow and connectivity throughout the home."
Take a walk through our client's beautiful Blackbutt flooring creation
The Client's Journey With Lifewood
Our client's main goal was to find a natural timber floor that would brighten up their home, be easy to maintain and suitable for a family with young children.
They decided on the 130mm NSW Blackbutt with semi-gloss coating which was perfect for creating the light look and spacious feel they wanted. The timber grain and subtle gum veins found in Blackbutt flooring creates flow and connectivity throughout the home.
As a young family they were conscious about choosing a floor that's easy to keep clean and suitable for their kids to grow up on.
Once they understood our Forever Young warranty and the benefits of our stabilized solid technology, the choice was easy.
All Lifewood floors are covered by our Forever Young Lifetime warranty.
A beautiful floor guaranteed to last a lifetime
1. The coating
Our patented manufacturing process allows us to apply our 9 layered polyurethane UV coating to all 6 sides of every floorboard, making it highly scratch resistant and much less prone to all forms of moisture damage.
2. The structure
Our unique engineering method stabilizes the board drastically reducing the natural movement of the wood, which can result in cupping and shrinking of the boards.
3. The Installation
Our world-class installers are masters at bringing homes to life with the natural beauty of real timber. All our floors are directly glued to the substrate enabling you to sand the floor back to new multiple times.
See the full gallery of another beautiful Blackbutt floor by Lifewood
Job and Installation Information
Type of Job:
Supply and installation of Lifewood's premium Blackbutt timber flooring.
Product:
Coating:
Semi-gloss finish with 9-layered polyurethane UV protective coating.
Areas Covered:
Living 
Kitchen
Dining
Master bedroom
2 x single bedrooms
Entertainment room 
Installer
Installation time:
Pre-finished Solid Blackbutt Flooring
Visit us at our award-winning Osborne Park showroom and take the Lifewood 20-minute tour.
In just 20 minutes our consultants are able to understand the scope of your project, work with your design needs and walk you through all of our flooring options.
Bring your house plan and we will measure it on the spot and give you a formal quote with samples to take home.
To start your new build on the right foot, choose Lifewood to help you create the floor of your dreams and the rest will look after itself.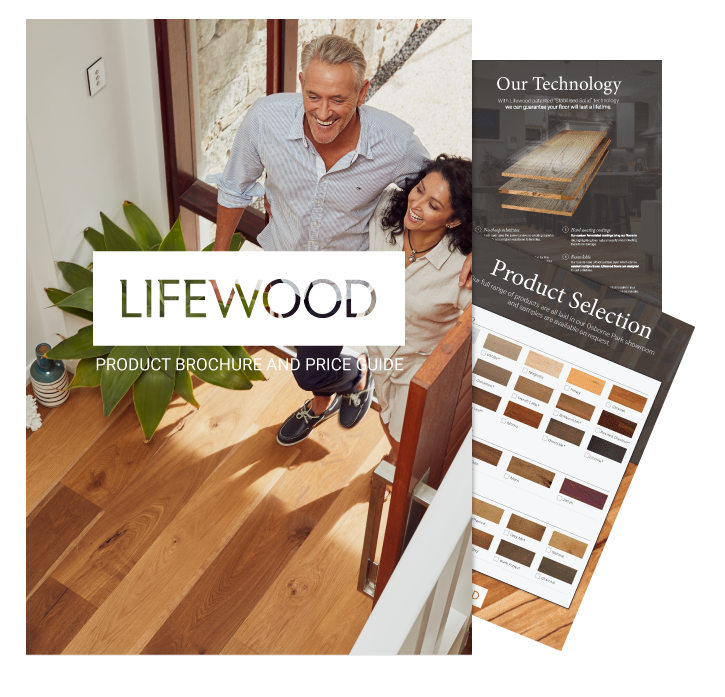 Download Our Price Guide
Discover the price of your floor fully installed and learn more about our extensive range of timber flooring.