From Outdated to Luxurious with Spotted Gum Timber Flooring
Perth, Halls Head
"Undoubtedly, one of the best decisions we made was to have floorboards put down."
Take a walk through our client's beautiful & luxury Spotted Gum flooring creation
The Client's Journey With Lifewood
"Undoubtedly, one of the best decisions we made was to have floorboards put down in our house.
When we bought our house four years ago we had horrible tiles on the floor which were very boring and some very bold colours on the walls. My wife and I decide we wanted to put floorboards down and it was actually quite difficult finding a company committed to sticking onto the tiles directly.
We didn't want the mess or the hassle of ripping up the tiles.
Fortunately, we found the company that was able to do that. Our tiles passed what was called a "Stick test" I think. We then committed to getting our floorboard put down. It's one of the best decisions we've ever made because it transformed what was a 20-year-old house with some pretty ordinary tiles into a lovely home. We're absolutely wrapped.
One of the things we were really wrapped with when we came home for the very first time was looking at the skillful craftsmanship of Hank's work. Hank installed this spotted gum floor for us and we were absolutely amazed at how well he was able to align the floorboards with the beautiful curved island bench that we have here and we were absolutely over the moon with what he was able to provide.
One of the great things about dealing with Lifewood was that from start to finish we had professional service and there is nothing better than actually having someone who cares and understands what you want. We made a couple of changes along the way, Lifewood was very amenable, agreeable and helpful. We're absolutely delighted.
My wife and I love our new floors."
See the full gallery of another luxury Spotted Gum flooring by Lifewood
Job and Installation Information
Type of Job:
Supply and installation of Lifewood's premium Spotted Gum flooring.
Product:
Coating:
Semi-gloss finish with 9-layered polyurethane UV protective coating.
Areas Covered:
Ground Floor
Dinning
Entry
Passageway
Living
Kitchen
Staircase 
Installer
Installation time:
Pre-finished Solid Spotted Gum Timber Flooring
Visit us at our award-winning Osborne Park showroom and take the Lifewood 20-minute tour.
In just 20 minutes our consultants are able to understand the scope of your project, work with your design needs and walk you through all of our flooring options.
Bring your house plan and we will measure it on the spot and give you a formal quote with samples to take home.
To start your new build on the right foot, choose Lifewood to help you create the floor of your dreams and the rest will look after itself.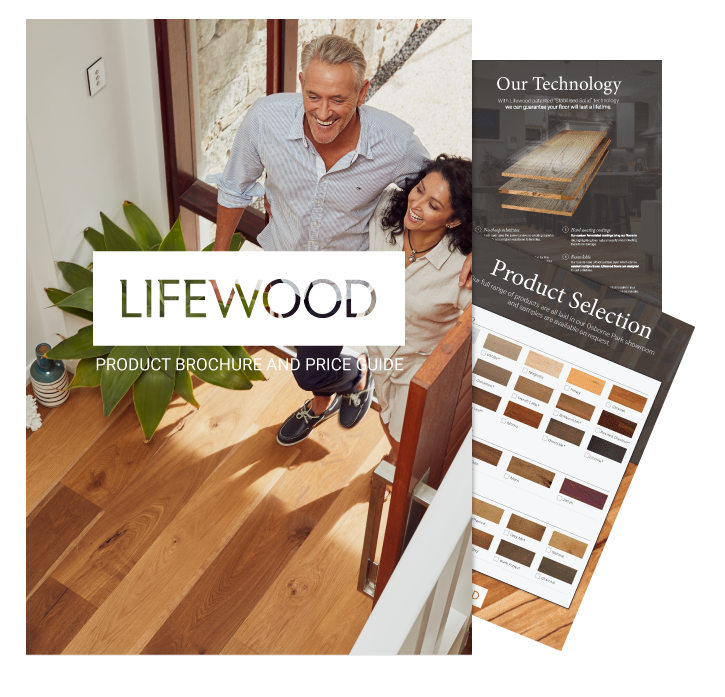 Download Our Price Guide
Discover the price of your floor fully installed and learn more about our extensive range of timber flooring.