Rustic Interior Style Inspired By Ancient Japanese Tradition
Perth, Mount Pleasant
"Each board is uniquely beautiful, we love it."
Take a walk through our client's beautiful French Oak flooring creation
This beautifully designed floor was inspired by the ancient Japanese art of wood charring known as Shou Sugi Ban.
This charred-like effect is created by applying a black fill to the spring wood and grain of the board during the manufacturing process. The combination of the dark, golden brown colour and the black fill gives this beautiful oak floor an elegant, rustic feel.
Originally, the Japanese would perform this charring technique as a way of preserving the timber, making it much more durable and resistant. Fortunately, this isn't necessary for our floors as we seal each board individually with our 9-layered "Tuff Coat" polyurethane UV coating.
See the full gallery of another beautiful French Oak floor by Lifewood
Job and Installation Information
Type of Job:
Supply and installation of Lifewood's premium French Oak timber flooring.
Product:
Coating:
Matte finish with 9-layered polyurethane UV protective coating.
Areas Covered:
Living 
Kitchen
Dining
Office
Stairs
Landing
Passage
Entry
Installer
Installation time:
Pre-finished Solid French Oak Flooring
Visit us at our award-winning Osborne Park showroom and take the Lifewood 20-minute tour.
In just 20 minutes our consultants are able to understand the scope of your project, work with your design needs and walk you through all of our flooring options.
Bring your house plan and we will measure it on the spot and give you a formal quote with samples to take home.
To start your new build on the right foot, choose Lifewood to help you create the floor of your dreams and the rest will look after itself.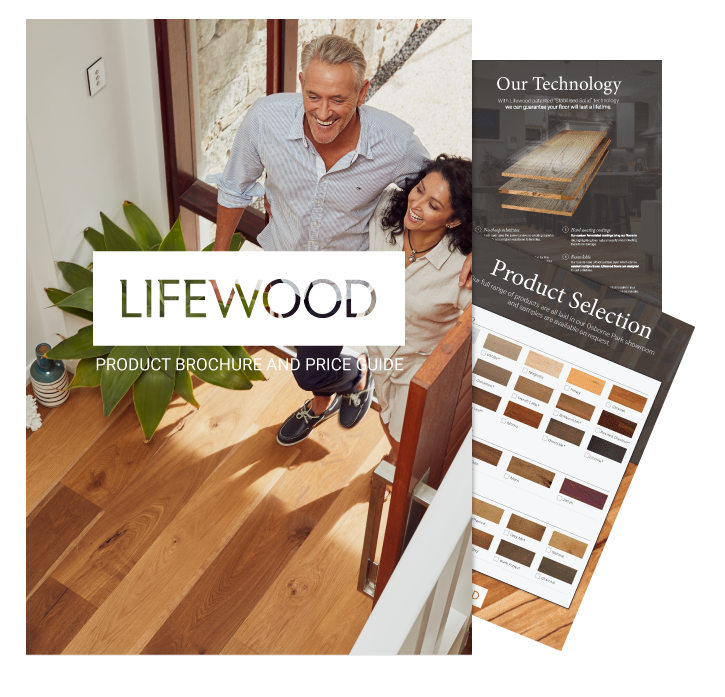 Download Our Price Guide
Discover the price of your floor fully installed and learn more about our extensive range of timber flooring.